Acute Respiratory Distress Syndrome - ARDS Attorney
Pennsylvania - New Jersey - Delaware - New York - Nationwide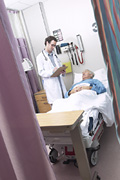 Acute Respiratory Distress Syndrome, or ARDS, is a serious lung dysfunction that affects about 150,000 people annually and often results in death. The causes are numerous, but ARDS can sometimes result from medical malpractice.
Patients with ARDS, which is also known as Adult Respiratory Distress Syndrome, experience severe shortness of breath or breathing failure, often requiring mechanical ventilation, or life support. About one-third of all cases are fatal.
ARDS is caused by accidents or external forces – a traumatic blow to the chest, breathing harmful smoke or fumes, and severe pneumonia. But its known causes also include a number of problems that can result from doctor or hospital error, things such as sharp blood loss, infections, a patient aspirating vomit, or adverse reactions to blood transfusions or heart bypass surgery. Drug overdose and negative drug interactions can also cause ARDS.
If you had a loved one who died from ARDS, you may want to contact an ARDS attorney for a free evaluation of your case.
Kline & Specter, P.C., handled one ARDS case in which a 19-year-old learning disabled woman was administered drugs believed to have caused her to develop the lung syndrome. A substantial settlement was negotiated in the case in Franklin County, Pa. (See the Diehl Case.)
In perhaps the most well-known case involving ARDS, legendary sports writer and broadcaster Dick Schaap entered a New York City hospital for routine hip replacement surgery but contracted an infection that led to ARDS. He died three months later at the age of 67. His family filed a lawsuit and a jury in July 2005 awarded $1.95 million in the case.
Acute Respiratory Distress Syndrome is often fatal. In the past, more than half the people who developed ARDS died. Today about one-third of all ARDS cases are fatal.
Kline & Specter, with some 30 experienced attorneys, several of whom are also highly skilled doctors, has the expertise to litigate cases involving Acute Respiratory Distress Syndrome. For more information, read about the law firm's Medical Malpractice cases and Major Victories.
---
Kline & Specter handles cases in Pennsylvania, New Jersey and New York and Nationwide, working with local attorneys in states outside PA, NJ and NY.
In Pennsylvania, Kline & Specter handles cases in and around: Allentown, Altoona, Bethlehem, Chester, Doylestown, Drexel Hill, Easton, Erie, Greensburg, Harrisburg, Hazleton, Johnstown, Lancaster, Levittown, McCandless, McKeesport, Monroeville, Norristown, Philadelphia, Pittsburgh, Pottstown, Radnor, Reading, Scranton, State College, West Chester, Wilkes-Barre, Williamsport and York.
In New Jersey, the firm handles cases in and around: Atlantic City, Bayonne, Brick Township, Camden, Cherry Hill, Clifton, Edison, Elizabeth, Fort Lee, Jersey City, Lakewood, Millville, Newark, New Brunswick, Paterson, Pennsauken, Plainfield, Toms River, Trenton, Union, Vineland, Voorhees and Willingboro.
ARDS Information Resources: