Car and Vehicle Accident Attorneys
Pennsylvania - New Jersey - Delaware - New York - Nationwide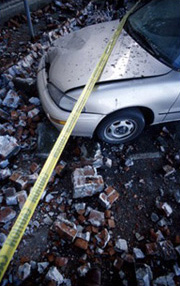 More than 40,000 people are killed each year in car, truck, bus and motorcycle accidents in the United States. Nearly three million suffer injuries.
Auto accidents account for among the most serious injuries, including brain damage and spinal cord injury. For instance, 45 percent of all spinal cord injuries in the United States -- or roughly 5,000 annually -- are the result of car and truck accidents.
If you or someone you know was killed or seriously injured in a truck or car accident, you may want to contact an auto accident attorney for a free evaluation of your case.
Automobile accident lawsuits handled by Kline & Specter, P.C. in the Philadelphia region have resulted in large verdicts and settlements (see below), including the $19.1 million Luzerne County verdict for a roadside worker struck by a vehicle (see McManamon) and the $38.2 million verdict for a girl injured in an accident at a dangerous intersection (Robley).
In other cases, Tom Kline won a $4.5 million verdict on behalf of an elderly couple killed in a car accident (see Carter) and a $3.375 million settlement in the case of Fidel Hernandez, a seasonal laborer from El Salvador and the father of six, who was killed in a roadside mishap.
Specter was retained in 2010 to represent one of the victims in the crash of a Megabus near Syracuse, N.Y. (See news stories) Kline was retained earlier to represent Ashley Zauflik, the teenager seriously injured in a school bus accident at Pennsbury High School. (See stories)
But some cases have brought more than money. In one in which a speeding police car struck and killed a man and his infant son (The Gillyard/Rich Case), Shanin Specter won not only a total $2.45 million settlement but also an agreement by City Police to make changes. After Specter investigated and pointed out that Philadelphia police vehicles were involved in more than 3,800 collisions over a nearly five-year period, Police Commissioner John Timoney issued a number of reforms to improve safety.
See Our Auto Cases in the News (click here)
While many auto accidents occur because of human error, many also can be caused or worsened by defective products or inadequate safety mechanisms.
Among these problems are vehicles that are prone to rollovers, especially increasingly popular sport utility vehicles, or SUVs. Rollover accidents are responsible for an estimated 24,000 injuries and 10,000 deaths annually in the United States.
A number of the vehicles have also been found to have roofs that cannot withstand rollover accidents, with drivers and passengers injured and killed. Federal officials, seeking to reduce the number of so-called roof crush accidents, have proposed toughening the current 30-year-old standard to mandate stronger auto roofs.
Airbags can cause severe injuries in auto accidents. Sometimes the devices deploy when they should not, or open with too much force or too slowly. In some cases airbags fail to deploy at all to protect drivers and passengers.
Other devices have also caused injury and death, such as lap belts found in older vehicles and defective parking brakes. (See White v. Ford) (See Toyota recall)
In some cases it is the type of vehicle itself that can be problematic. For instance, motorcycles and scooters have increased in popularity in recent years and traffic accidents involving the two wheelers has risen with sales. The number of motorcycle riders killed on U.S roadways reached 5,154 in 2007, an all-time high.
Tractor trailers, large trucks and buses are involved in accidents that account for roughly 5,000 fatalities each year in the United States. Fifteen-passenger vans often used by daycare centers, business commuters, sports teams, senior citizen groups and others are also considered dangerous because they are prone to rollovers.
Also, school bus accidents account for an average 17,000 emergency-room injuries and 20 deaths each year in the United States.
Kline & Specter has some 30 attorneys, including a team of seven doctors, to help evaluate potential lawsuits. The firm handles cases in Pennsylvania, New Jersey and New York. For cases outside those states, Kline & Specter works with local attorneys in each state as applicable. Contact an auto accident lawyer today.
Kline & Specter cases
Click here to see more Kline & Specter Auto Cases in the News

---
Kline & Specter handles cases in Pennsylvania, New Jersey and New York and Nationwide, working with local attorneys in states outside PA, NJ and NY.
In Pennsylvania, Kline & Specter handles cases in and around: Allentown, Altoona, Bethlehem, Chester, Doylestown, Drexel Hill, Easton, Erie, Greensburg, Harrisburg, Hazleton, Johnstown, Lancaster, Levittown, McCandless, McKeesport, Monroeville, Norristown, Philadelphia, Pittsburgh, Pottstown, Radnor, Reading, Scranton, State College, West Chester, Wilkes-Barre, Williamsport and York.
In New Jersey, the firm handles cases in and around: Atlantic City, Bayonne, Brick Township, Camden, Cherry Hill, Clifton, Edison, Elizabeth, Fort Lee, Jersey City, Lakewood, Millville, Newark, New Brunswick, Paterson, Pennsauken, Plainfield, Toms River, Trenton, Union, Vineland, Voorhees and Willingboro.
Breaking News
A woman who was struck by a metro bus while she was in a crosswalk has reached a $4.5 million auto accident injury settlement with the county. The woman was crossing the street when she was struck by a mirror on the bus. The woman suffered a brain injury and a shattered arm. She is unable to work and lost her career as an attorney. One year ago, the same county paid $7 million to settle a lawsuit filed by a woman who was severely injured when a metro transit van struck her Vespa scooter. (Full story)
An appeals court has reversed its own decision, paving the way for a couple to collect $11 million from Mitsubishi Motors for their son's fatal auto accident. A jury had found that a defective seat belt in the 2000 Montero Sport was responsible for their son's death in a rollover accident. Shortly thereafter, an appeals court threw out the verdict, but upon closer inspection of the case, it reversed its decision. (Full story)
A National Highway Traffic Safety Administration proposal would expand federal law to require all new cars starting in 2014 to have rearview cameras and interior displays to allow "a 180-degree view" of the area around a car. The law was named after a 2-year-old boy who was hit and killed as his father moved a family car in the driveway. The NHTSA estimates that, on average, 292 fatalities and 18,000 injuries occur each year because of drivers backing over people, with children and the elderly at greatest risk. (Full story)
woman wins a $5 million auto accident settlement after she was seriously injured in a crash with a delivery truck. The woman suffered a brain injury and broken bones after the truck crossed the road and collided head-on with the cab she was driving in. The woman underwent four surgeries, spent more than six weeks in a hospital and a nursing home and needs a lifetime of care. (Full story)