Emergency Room Injury Attorneys
Pennsylvania - New Jersey - Delaware - New York - Nationwide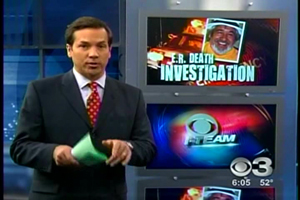 An incident in a Philadelphia hospital waiting room not only captured front-page headlines but also underscored the growing hazards patients face in seeking emergency care throughout the United States.
Joaquin Rivera, a 63-year-old school counselor, suffered an apparent heart attack and died in the emergency room after waiting an hour and 19 minutes for help. While he was incapacitated, three people described as homeless drug addicts stole his watch. (Watch the TV news clip)
While the theft was the focus of news stories, Rivera's death exemplified what some experts term a "national crisis" in emergency room care. As ER patient demand increases and the number of facilities shrinks, overcrowding has resulted in longer waits and, ultimately, poorer care.
If you or a loved one suffered a severe injury or death due to poor or delayed treatment at a hospital emergency room, you may want to contact an attorney. Kline & Specter, P.C., with some 30 lawyers, several of whom were emergency room doctors, has the experience to litigate emergency room lawsuits. The firm offers free case evaluations.
Kline & Specter has handled and is currently litigating a number of emergency room cases, including one in which a middle-aged father of two was evaluated by a physician assistant for chest pain and discharged with a diagnosis of a gastrointestinal malady. Ten hours later, the patient suffered cardiac arrest and died.
Other Kline & Specter emergency room cases include that of an improperly intubated baby who suffered oxygen deprivation and died, misdiagnoses of a young man's epidural abscess which resulted in paralysis, and the death of a four-year-old boy who was kept waiting for three hours in an ER waiting room and then never administered a prescribed medication to prevent seizures and his eventual cardiopulmonary arrest. In another case, a middle-aged man was discharged by ER personnel despite showing symptoms of stroke and later died after suffering extensive hemorrhagic bleeding in his brain.
The Institute of Medicine in a report several years ago noted the myriad problems faced by emergency rooms. It noted that the number of patient visits grew by 26 percent over a 10-year period (1993-2003), while over the same time the number of emergency departments declined by 425 nationally with nearly 200,000 fewer hospital beds available.
This resulted in longer waits and also ambulances being diverted from crammed ERs to other hospitals that were often further away. The IOM report tallied such diversions at 500,000 yearly, or roughly one every minute.
The report also noted that three-quarters of hospitals said they had difficulty finding specialists, such as neurosurgeons, to take emergency and trauma calls. And because of a growing lack of health insurance, many on-call specialists wound up getting no compensation for treating emergency room patients.
Many emergency rooms also were not equipped to handle young patients, the report said, with most children – who comprise 27 percent of all ER visits – treated at general hospitals less likely to have pediatric expertise and equipment as do children's hospitals.
Contact a Kline & Specter lawyer about an emergency room injury today.
---
Kline & Specter handles cases in Pennsylvania, New Jersey and New York and Nationwide, working with local attorneys in states outside PA, NJ and NY.
In Pennsylvania, Kline & Specter handles cases in and around: Allentown, Altoona, Bethlehem, Chester, Doylestown, Drexel Hill, Easton, Erie, Greensburg, Harrisburg, Hazleton, Johnstown, Lancaster, Levittown, McCandless, McKeesport, Monroeville, Norristown, Philadelphia, Pittsburgh, Pottstown, Radnor, Reading, Scranton, State College, West Chester, Wilkes-Barre, Williamsport and York.
In New Jersey, the firm handles cases in and around: Atlantic City, Bayonne, Brick Township, Camden, Cherry Hill, Clifton, Edison, Elizabeth, Fort Lee, Jersey City, Lakewood, Millville, Newark, New Brunswick, Paterson, Pennsauken, Plainfield, Toms River, Trenton, Union, Vineland, Voorhees and Willingboro.