Dangerous Toy Attorneys - Pennsylvania - Kline Specter
Pennsylvania - New Jersey - Delaware - New York - Philadelphia - Nationwide
More than 200,000 children are hurt each year in the United States while playing with toys, suffering injuries serious enough to require treatment in hospital emergency rooms. In 2004, for instance, there were 16 reported cases of children who died in toy-related incidents, while in 2007 Mattel, the world's largest toy maker, recalled nearly 20 million toys because of a variety of problems with Chinese-made products.
The U.S. Consumer Product Safety Commission has announced the recalls of many dangerous toys, but hazardous items remain available. Most recently, the CPSC filed a complaint seeking to force the recall of 2.5 million Buckyballs desktop magnet toys (learn more). And earlier a massive recall of more than 10 million products was announced by Fisher Price, including seven million plastic tricycles which caused injuries when toddlers jumped or fell on its protruding "ignition key" and nearly three million baby playground toys with parts that presented choking hazards. (Read article)
If your child has been seriously injured in a toy-related accident, you may want to contact a dangerous toy attorney for a free evaluation of your case.
See Tom Kline's Fox-TV interview on unsafe toys.
Click here for information about unsafe Chinese products.
The CPSC in August 2009 published a Top Ten list of recalled children's toys and products which may still be on store shelves despite the fact that re-selling such products is a violation of federal law. An agency study had found that nearly 70 percent of resale stores sold at least one recalled or otherwise hazardous item.
Among the items on the Top Ten list were Magnetix Magnetic Building Sets, Easy Bake Ovens, Polly Pocket Dolls with Magnets and Hill Sportswear hooded drawstring sweatshirts.
Among major recalls announced by the CPSC were some 300,000 Cuddly Cousins Plush Insect Toys that the agency said posed a choking danger to small children. The toys, made in China, were sold in thousands of Dollar Tree and other so-called dollar stores across the country from March through December 2007.
Prior to that recall, a health danger arose over Aqua Dots, a Chinese-made bead toy found to be coated with the same chemical known as the "date rape" drug GHB, or gamma-hydroxy butyrate. There were reports of children ingesting the chemical, then falling ill.
GHB can cause seizures or people to become unconscious or comatose. The U.S. Consumer Product Safety Commission reported on Nov. 8, 2007 that at least two children became comatose after swallowing beads, but they both recovered. (Read CPSC's news release). GHB can also cause hypotonia, a condition in which muscles become flaccid. The drug is referred to as the "date rape" drug because it can also cause a victim to forget what happened to them.
More than four million sets of Aqua Dots were sold, priced in the $17 - $30 price range, since April. In the United States, the craft kits were sold as Aqua Dots, but they go by Bindeez Beeds in other counties. The toy has been very popular, recently making Wal-Mart's list of the Top 12 Christmas toys. The retail chain has since withdrawn that designation. (Read article)
A leading cause of death among young children is choking, mostly on small balls, balloons and tiny toy parts. (One safety group suggests using a toilet paper tube to test for size; objects that fit through the tube are too small for younger children.) Entanglement in certain toys also poses a risk to small children.
In 2007, the CPSC announced the recall of more than four million Magnetix Magnetic Building Sets after children swallowed small magnets and suffered intestinal injuries. At least one child died and more than two dozen required surgery.
One watchdog group, the U.S. Public Interest Research Group, which conducts independent toy surveys in New York state, said in a November 2005 report that it discovered toys for sale that violated the federal ban on small parts in toys and other products that lacked required warning labels.
It also found latex balloons marketed to children younger than eight years old; PIRG recommends that children that young never be given balloons to play with. Packages of uninflated balloons are supposed to carry age restriction labels but some do not while others are sold loose in bins that do not carry warnings.
PIRG's latest report singled out yo-yo water balls, which are liquid-filled balls attached to stretchy cords, as a strangulation hazard. It also noted that some small toys and pacifiers labeled as "phthalate-free" contain the potentially hazardous chemicals.
Other bad toys:
On Aug. 14, 2007 Mattel announced a massive recall of 18.2 million toys – about half of which were sold in the United States – because some were covered with lead paint while others contained small, powerful magnets that could be swallowed by young children. The Chinese-made toys included Sarge vehicles from the animated film "Cars." In September Mattel recalled another 700,000 Chinese-made toys because of lead paint, including various Barbie doll accessory toys.
Mattel had earlier announced the recall of nearly one million Fisher-Price toys in the United States because of lead paint used by its Chinese manufacturer on 83 different products, including popular Sesame Street and Nickelodeon toys based on characters such as Elmo, Cookie Monster and Dora the Explorer.
Some of the products, sold by Mattel's Fisher-Price unit, were stopped at distribution centers but many others had already been purchased by consumers. The CPSC advised that the toys be taken away from children immediately. (Click here to see a complete list of the recalled toys or go to www.cpsc.gov)
Mattel Inc. announced November 2006 that it was recalling 4.4 million Polly Pocket doll and accessory sets because magnets from the sets could be swallowed by children. There had been at least three reports of children needing surgery after swallowing magnets and suffering intestinal perforations.
The CPSC in December 2005 announced the recall of six million necklaces made by Stravina Operating Co. because it said the jewelry poses a risk of lead poisoning.
On Dec. 14, 2005, the commission announced the voluntary recall by Maxim Enterprise Inc. of the Little Tree Mini Learning Cube because it said the toy's small wooden pegs can come loose and pose a choking hazard to young children. About 12,000 of the toys were sold in Target stores from June through November 2005. (Read the CPSC news release.)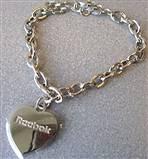 In March 2006, Reebok International recalled 300,000 charm bracelets following the death of a four-year-old Minneapolis girl due to lead poisoning after she swallowed a piece from the bracelet, according to the CPSC.
The bracelet, found to contain high levels of lead, was given away free with certain Reebok shoes. The CPSC advised parents to immediately discard the entire bracelet, whose heart-shaped charm bears the word "Reebok" on the back (Read the CPSC News Release on the Reebok recall.)
In May 2006, Daisy Manufacturing Co. recalled 104,500 slingshots because the slingshot band could slip out of its frame and cause the ball to strike a user in the face, potentially causing serious injury. There was one reported case of a boy blinded in one eye. (Read the full report..)
Click here to contact an attorney about a dangerous toy injury or death.
Click here to visit the CPSC website to see more dangerous toys and products.
---
Kline & Specter handles cases in Pennsylvania, New Jersey and New York and Nationwide, working with local attorneys in states outside PA, NJ and NY.
Additional Resources
Dangerous Toy News