On TV …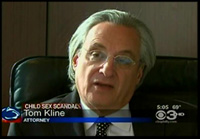 When the Penn State scandal broke – and it was learned that Kline & Specter was representing one of the alleged victims – Tom Kline and Shanin Specter were asked by many news outlets to comment on the case. In total, the attorneys conducted 10 newspaper and 40 television interviews, including national appearances by Kline on CNN, MSNBC and Tru TV. Click here to see all the news clips.
---
Power lines are falling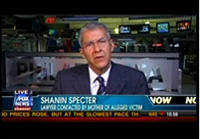 Shanin Specter was in the news in Pittsburgh when he filed a letter-complaint with the Pennsylvania Public Utility Commission charging that Allegheny Energy puts the public at risk by violating its own safety procedures for training and installation of power lines. The allegations stem from the June 2009 incident in which Irwin, Pa. resident Carrie Goretzka died after she was struck and severely burned by a power line that fell at the side of her house. Specter is representing the family in a civil suit. In his letter to the PUC, he noted the problem with installation and maintenance of the power lines "may cause additional lines to fall and people to die. This must be remedied." (See news coverage)
---
Drexel opens Kline & Specter Squash Center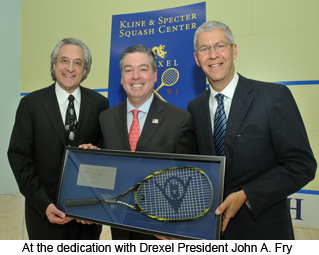 Drexel University held its grand opening celebration for The Kline & Specter Squash Center on Jan. 23 at the Daskalakis Athletic Center. The center features seven courts — five competitive and two recreational — a team room and seating. The Drexel Dragons are scheduled to play their first matches in the new facility later this month. Squash was launched in 2011 as the university's newest sport, its 18th, and both the men's and women's teams played a full fall schedule under Head Coach John White, a former World No. 1 player and still one of the top 10 American players. (White set a world record with a serve of 172 miles per hour.) Drexel played host to the 2011 Delaware Investments U.S. Open Squash Championships in October.  University officials noted that the new squash center was made possible thanks to a contribution from Kline & Specter, P.C. (See news coverage)
---
 Trial As Theatre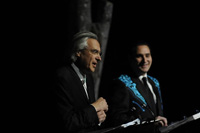 Tom Kline's Trial As Theatre™ presents "Bob Dylan: Music, Lyrics and The Law" played to a full house at The Wilma Theater. The CLE presentation featured narrative by Tom Kline and his son, playwright Zac Kline, along with music by Howard Fishman and his band. Following the show, Seth Rogovoy signed copies of his book "Bob Dylan: Prophet, Mystic, Poet." (See more photos and stories)
---
Winning in suburbia II

A jury deliberated 14 hours, and when it returned to the courtroom it gave attorneys Michael A. Trunk and Gary M. Zakeosian a rare victory in Chester County. The $805,571 verdict was for the parents of 35-year-old John F. McGinley III, who died in Chester County Hospital after being admitted complaining of stomach pain and then being given an overdose of a painkiller. The drug exacerbated his existing sleep apnea and led to respiratory arrest. The verdict by a jury of eight women and four men against the hospital and a doctor was unanimous. (See story)
---
Sharing the keys
Shanin Specter's CLE titled "Keys to Winning in Conservative Counties" played to a packed house at Del Frisco's Steakhouse in November. The month after he shared his views on the topic, partner Tom Kline won his $14 million verdict in Bucks County and Trunk and Zakeosian won their $805,000 verdict in Chester County.
---
Our opinion …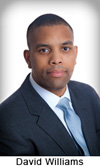 David Williams penned an editorial about the need for a Pennsylvania False Claims Act that was published in The Philadelphia Inquirer and other newspapers. He began: "In this time of widespread economic discontent, Pennsylvania legislators have the opportunity to effectively increase state revenue while also protecting the commonwealth from the fraud that has contributed to the nation's financial woes. The proposed Pennsylvania False Claims Act represents a way to combat fraudulent activities that affect state health-care and infrastructure costs and buttress the budget without raising taxes." Williams noted that 27 states and the District of Columbia have enacted false claims acts as have New York City, Chicago, and Allegheny County, Pa. Under these laws, not only do citizens reap rewards, but governments can also recover billions – in fact, $7 billion by states since 2000.
Read the complete Op/Ed
---
Photo shoot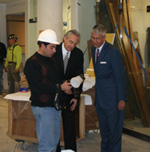 Tom Kline and Shanin Specter worked with a photographer with Best Lawyers magazine at the entrance of the future courtroom at University of Pennsylvania Law School, where construction on the project -- funded by Kline & Specter -- is expected to be completed later this year. Kline and Specter have each been featured on the cover of Best Lawyers magazine, which is to be distributed later this month as an insert in The Philadelphia Inquirer and regional editions of The Wall Street Journal.
---
"Chocolate Thunder"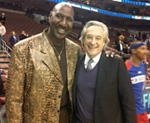 There's always someone bigger than you are – a lesson learned by Tom Kline when he recently ran into ex-76er and fan favorite Darryl Dawkins, nicknamed for his thunderous slam dunks.
---
Get Our Eletter
If you know someone who would want to receive our Eletter, simply forward this email and they can click here to complete the E-letter form.