Kline argues appeal of Pa. damages limit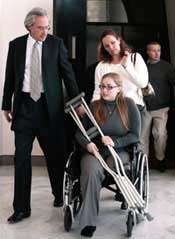 Tom Kline, in representing a teenager who lost a leg when she was struck by a school bus, told a Commonwealth Court panel that Pennsylvania's $500,000 cap on damages against local government entities is unconstitutional. Kline is challenging the cap on behalf of Ashley Zauflik, the former Pennsybury, Bucks County, student, for whom he won a $14 million jury verdict in December 2011. Kline has said he considers the case a vehicle to challenging the $500,000 cap established in 1986. Zauflik suffered an amputated leg as well as fractures to her spinal column and pelvis in the 2007 incident. Kline told the news media the cap is outdated and "unconscionable" and that he is prepared to take the matter to the state Supreme Court. His co-counsel in the case are Chip Becker and David Caputo. Following the hearing Feb. 10, the three-judge Commonwealth Court panel took the matter under advisement. (See coverage)
---
Firm retained in Boston Bus accident
Tom Kline was retained to represent victims of a bus crash that injured some 30 people, several of them seriously, on Feb. 2 in Boston. The bus was a charter that had brought Bucks County high school students and chaperones to a one-day program at Harvard. The bus was headed back to Philadelphia when it crashed while trying to pass under a bridge. Some of the passengers were trapped inside the bus for hours, according to a report by the Associated Press, and three suffered serious injuries. The AP quoted authorities as saying the bus should not have been traveling on curvy Soldiers Field Road along the Charles River and that state police were investigating whether to charge the driver. Tom Kline, Don Matusow and Jason Pearlman also represent victims of a similar accident that occurred in September 2012 when a double-decker Megabus crashed into a railroad bridge near Syracuse, killing four people and injuring two dozen. That case is scheduled for trial in March in Philadelphia Common Pleas Court. (See Boston accident coverage)
---
Settlements of $25M and $20M reached
Kline & Specter reached two major settlements in recent medical malpractice cases. In one, an agreement for a $25 million payment was negotiated in the case of misdiagnosis and failure to properly treat retinopathy of prematurity in twin boys resulting in blindness. In the other case, a $20 million settlement was obtained on behalf of an infant who suffered a catastrophic brain injury during labor and delivery. Both settlements were confidential and the names of the plaintiffs and defendants and further details of the cases could not be disclosed. (View list of Kline & Specter medical malpractice verdicts and settlements)
---
Suit filed in button battery case
Shanin Specter and Dominic Guerrini filed suit in a case in which an infant suffered severe injuries after swallowing button batteries contained in a pair of lighted tweezers. The powerful lithium batteries can become lodged inside a small child's body and external current can create a corrosive chemical that damages or perforates organs. In this incident, which occurred in April 2011 in Sugar Grove, Pa. (Warren County), the baby suffered cardiac arrest and kidney damage and has lost all of his toes and most of his fingers. The tweezers, made in China and with a toy-like appearance, were sold from a bin at a dollar store without packaging or warnings. Emergency room visits due to children swallowing small batteries has risen to more than 5,000 per month, or about once every 90 minutes. (More information about button battery injuries)
---
Upcoming Events:
Feb. 27 – Shanin Specter will conduct a CLE titled "Lessons Learned from Goretzka vs. West Penn Power" about his recent $109 million verdict against the western Pennsylvania utility. The CLE (two substantive and one ethics CLE credit) will provide insight into case selection, settlement strategies, proving liability and punitive damages against a corporation, client relations when offers are made, openings and closings, underselling damages and calling adverse witnesses as of cross-examination. The program is from 9 a.m. – 12:30 p.m. and will be held at Top of the Tower, 50thFloor, 1717 Arch St., Philadelphia.
March 19 -- Tom Kline will give the 2013 Edward J. Ross Memorial Lecture in Litigation at Temple Law School at noon. The lecture was established in 2008 by friends and family of alumnus Edward Ross, who represented adult survivors of childhood sexual abuse against government agencies and religious institutions. Kline is representing one of the victims of convicted child abuser Jerry Sandusky and has made scores of media appearances on behalf of the victims of the Penn State scandal. The title of his lecture is "Childhood Sexual Abuse: Out of the Shadows into the Courtroom."
---
Leoni wins $1M verdict in cancer case

Robert Leoni won a verdict of more than $1 million for a 36-year-old woman in a missed cancer case. The verdict by a jury sitting in Dover, Del., in Kent County Superior Court came in December 2012. The medical malpractice case arose after the woman's doctor mistakenly told her that a biopsy was normal, delaying a correct diagnosis of endometrial cancer for 18 months. At that point, after having suffered pain and bleeding, the cancer had metastasized to a lymph node and required chemotherapy and radiation treatment which left scarring that causes the woman severe pain.
---
Kline, Inscho file suit in prison deaths
Tom Kline and David Inscho filed wrongful death lawsuits against Lehigh County Prison for the families of two inmates who died while incarcerated. One suit claims that David Campbell, 25, of Allentown, who died after a struggle with guards, was pepper sprayed, assaulted and held in a chair before his death. The second lawsuit claims that Travis Magditch, 27, of Fountain Hill, died in his cell because he was denied an inhaler despite being diagnosed as asthmatic. According to a news report of the cases, there were two other deaths at the prison within the same six-month period from August 2011 through January 2012. One of the other inmates hanged himself while another reportedly died of natural causes. (Read newspaper articles)
---
Family of abducted girl hires Kline to help
Tom Kline was retained to represent the family of a five-year-old girl abducted from her Philadelphia elementary school and found partially clothed in the cold in an Upper Darby park the next morning. Kline was contacted by the girl's mother, Latifah Rashid, to help the family with legal representation and media contacts. He was also assisting in the criminal process to help ensure those involved face justice in the case. Anyone with information was urged to call Philadelphia police. (See TV coverage)
---
Balefsky named to TVM steering committee

Lee Balefsky, head of the firm's Mass Tort Department, has been named as a member of the Plaintiffs' Steering Committee involved in transvaginal mesh cases nationwide. The device, also known as bladder or pelvic sling, is implanted to treat pelvic organ prolapse and stress urinary incontinence but has been found to contract or erode over time in many women, causing complications that include organ perforation, pain, bleeding, infection and urinary leakage. Balefsky and Michelle Tiger are heading a massive effort by Kline & Specter to find and help victims who have suffered additional surgeries and serious injuries. One manufacturer, Ethicon Inc., a subsidiary of Johnson & Johnson, said in June 2012 it would stop sales of most of its mesh products. The U.S. Food and Drug Administration (FDA) has issued a warning about the products to doctors and patients, noting some 4,000 reports of adverse events from 2005-2010 alone. Visit our transvaginal mesh website at www.gynmesh.com
---
Specter sues in "House of Horrors" case
Shanin Specter and Dominic Guerrini filed suit in the "House of Horrors" case on behalf of one of the alleged victims of a woman accused of holding mentally disabled adults captive in a benefits fraud scheme. The suit names the victim's aunt and the City of Philadelphia and city officials as defendants. It claims that before placing the victim in the aunt's custody social workers should have informed a court that the aunt had a prior conviction of third-degree murder. Beatrice Weston alleged in the criminal case that her aunt forced her into prostitution after being placed in her care as a 10-year-old in 2002. (See the TV news clip)
---
Yang firm's newest lawyer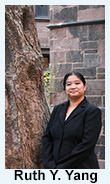 Ruth Y. Yang became the firm's 35th lawyer. Yang earned both her undergraduate and law degrees from the University of Pennsylvania, where she was a member of the University Honors Scholars Program. She previously worked on a wide range of litigation for a number of the region's most prestigious law firms. Over the past decade, she has been involved in a litany of legal matters, including patent, trademark, employment, immigration, securities, state immunity, intellectual property, statute of limitations and environmental compliance cases. Outside of her career, Yang, who is fluent in Mandarin, has been a competitor and teacher of ballroom dancing.
---
Get Our Eletter
If you know someone who would want to receive our Eletter, simply forward this email and they can click here to complete the E-letter form.