Large verdict won for disabled ex-Marine

Shanin Specter, Regan S. Safier and David C. Williams won a $17.5 million verdict for a former U.S. Marine who was left disabled after suffering a stroke following dental surgery at the Veterans Administration Medical Center in Philadelphia. During a procedure to remove eight teeth in 2007, Christopher Ellison, now 53, experienced a sharp drop of his blood pressure several times. A federal judge found the doctor who performed the procedure negligent for failing to stop the surgery. Ellison also was not monitored afterward, leaving the medical center and trying to drive home on his own. He suffered a stroke and crashed his vehicle. He was not found for several hours and did not get to a hospital in time for post-stroke therapy, which can prevent permanent damage. Ellison suffered serious brain damage and needs full-time care.
---
Firm wins appeals
Two important Kline & Specter verdicts have been upheld. One was the $27.6 million awarded to a woman who was injured while making a promotional video for her artificial knee implant. Philadelphia Common Pleas Judge Frederica A. Massiah-Jackson ruled in judgment for plaintiffs Margo and Daniel Polett that the award should not be reduced. A jury had found negligence on the parts of Public Communications Inc., the Chicago firm hired to make the video, and the orthopedic medical device manufacturer Zimmer. The case was tried by Shanin Specter and Carl Jones, with Charles Becker briefing the post-trial motions.
In the other case, Pennsylvania Superior Court upheld a $5.2 million medical malpractice award for the widow of a pharmacist, 37-year-old Gregory S. Volutza, who died of a heart attack while at work. A Berks County jury in 2009 found Dr. Donald J. McBryan Jr. negligent in the case and awarded $4 million to his widow. President Judge Jeffrey L. Schmehl later added $1.2 million in damages for the delay in the conclusion of the case. Volutza had gone to Dr. McBryan complaining of chest pains but was told that he was suffering not from a heart ailment but anxiety. Four days later, Volutza contacted the doctor again with the same problem, but by the time his call was returned he was in cardiac arrest. An autopsy indicated Volutza had heart damage from a heart attack suffered several days before his death. The case was tried by Shanin Specter, Andy Youman and Gary Zakeosian, with Charles Becker briefing and arguing the appeal.
---
Tom Kline CLE in A.C.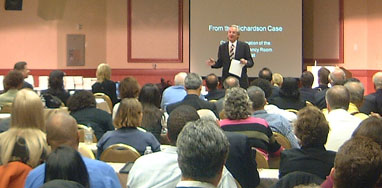 Tom Kline gave the keynote address at the Philadelphia Bar Association's Bench-Bar & Annual Conference at Harrah's Resort Atlantic City in October. About 150 judges and lawyers packed the standing-room-only program. Kline presented cross-examinations from some of his most notable cases and made a call to judges to allow broad cross-examination and to forge remedies which accomplish justice, which is often beyond just monetary compensation. The annual program affords attorneys an opportunity to earn CLE credits while getting a chance to network and socialize with colleagues and members of the judiciary.
View a portion of the presentation.
---
Tom Kline's Trial As Theatre to focus
on Bob Dylan
A few tickets might still remain... On Nov. 11 Trial As Theatre™ presents "Bob Dylan: Music, Lyrics and Justice" at The Wilma Theater in Philadelphia, 9 a.m. – 12:30 p.m. The three-credit CLE presentation by attorney Tom Kline and playwright Zac Kline will include live music, interviews with Dylan authorities, applicability of Dylan story-telling, discussion and analysis of Dylan's dramatic writing and story, telling techniques and Dylan's legal cases. Pre-registration is recommended as space cannot be guaranteed for walk-ins. Attorneys are encouraged to call the Pennsylvania Association for Justice office at 215-546-6451 the day before the program to see if space is available.
---
Becker chosen among nation's best

Charles Becker has been recognized as among the nation's best appellate attorneys by the rating service Benchmark: Litigation, The Guide to America's Leading Litigation Firms and Attorneys. In its announcement in September, Benchmark said Becker was "identified in our research as one of the preeminent appellate practitioners in the country." Benchmark's publication of leading attorneys is available to all attorneys and is provided to general counsel at Fortune 1000 companies as well as partners at the leading appellate firms in each state.
---
Kline & Specter constructs courtroom
Kline & Specter and their attorneys are committed to their community and support scores of charities. Among the latest is construction of a courtroom at the University of Pennsylvania School of Law (see below).
Read more about their charitable involvement.
Real construction on mock trial courtroom
It might not look like much yet... but construction is underway at the University of Pennsylvania Law School's future courtroom donated by Kline & Specter. Shanin Specter teaches trial advocacy at the school. The new law school facility is Golkin Hall, which will feature a 350-seat auditorium and the courtroom, funded by a $1 million gift from Kline & Specter. The facility will be used to hold mock trials and may also be the location for Pennsylvania Superior Court arguments. Shanin Specter said in a recent newspaper interview: "We have a lot to do together, the law school and the firm. I love the law school and I love being able to help advance its mission." Kline, a member of the Penn Inn of Courts, commented that "this courtroom will be used to teach the next generation of lawyers and leaders." Golkin Hall is scheduled to open in January 2012.
---
Mark Polin a Jersey lawyer

Mark Polin has received his license to practice law in New Jersey. Dr. Polin is one of seven doctor/lawyers at Kline & Specter. He was in private practice in obstetrics and gynecology for nearly 20 years before earning his J.D. degree from the Penn State Dickinson School of Law and joining Kline & Specter in 2010.
---
Get Our Eletter
If you know someone who would want to receive our Eletter, simply forward this email and they can click here to complete the E-letter form.