Verdict let stand, Ford pays $12M
The Pennsylvania Supreme Court refused to consider an appeal of a verdict in Allegheny County for a tow truck operator who was killed when the parking brakes in his Ford truck failed and the vehicle rolled over him. The decision let stand a 2009 $8.75 million jury verdict which, with interest, is now worth more than $12 million. Ford promptly paid in full. The state Superior Court had upheld the verdict against Ford Motor Co. last year. Shanin Specter, who led the case for the family of Joe Blumer, told the news media its conclusion was "heartening" for Blumer's widow and two daughters. David Caputo, Kila Baldwin and Dominic Guerrini also worked on the case with Specter and Charles L. Becker handled the appeal for the firm. See news article
---
Specter, Guerrini represent
"House of Horrors" victim
Shanin Specter and Dominic Guerrini filed suit against the City of Philadelphia in the "House of Horrors" case on behalf of Beatrice Weston, 20, for placing her in the care of her aunt, convicted killer Linda Ann Weston. Beatrice was one of five people rescued in October after police discovered them held in a dungeon-like basement in an apartment in the city's Tacony section. Soon after finding the young woman locked in a closet police learned that she had been imprisoned by her aunt since she was 10 years old. The four older, mentally retarded prisoners allegedly had been held and terrorized in a plot to steal their Social Security checks. The civil rights suit claims that city officials placed Beatrice with her aunt despite the older Weston's 1983 conviction for starving a man to death in a closet and without conducting home investigations. Click here to see newspaper and TV stories.
---
Suit filed for injured Eagles OT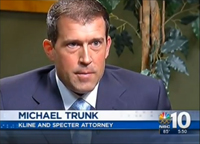 Kline & Specter filed suit on behalf of Jason Peters, the Philadelphia Eagles injured all-pro offensive tackle, against a firm that makes the Roll-A-Bout alternative to crutches. The device broke while Peters was using it, causing him to fall and re-injure his Achilles tendon. Peters was recovering from surgery for a ruptured Achilles suffered during a pre-season workout when the incident occurred. He was using the Roll-A-Bout in his home when the metal upright broke just below the handlebars. A second surgery was required and Peters, who had been expected to return to football in October or November, had a worse long-term prognosis due to the injury. The defendant in the case is Delaware-based Roll-A-Bout Corporation, which says the device can help someone weighing as much as 500 pounds. Peters weighed about 350. The case is being handled by Shanin Specter, Michael A. Trunk and Jason Pearlman. Watch Trunk's interview on NBC 10.
---
Smerconish interviews President Obama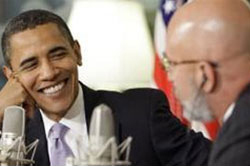 Michael Smerconish, of counsel attorney with Kline & Specter, held a one-on-one pre-election radio interview with President Obama in the Oval Office which aired on Oct. 26. Audio of the interview was posted on www.smerconish.com. The interview was the seventh time Smerconish, a nationally syndicated radio personality as well as a best-selling author, conversed on the air with Obama. In the latest, the president told Smerconish he expected to win a second term and that he hoped to improve relations with Republicans in Washington. In a second term, he said, "The goal of making me a one-term president is behind us." Obama said the top priority at the start of a second term would be dealing with deficit and debt issues. As an attorney, Smerconish has focused on legal cases ranging from complex tort matters to business litigation. In recent years, he has become celebrated for his media endeavors, particularly the "Michael Smerconish Program" which airs in 70 markets throughout the country. He has interviewed five U.S. presidents.
---
Get Our Eletter
If you know someone who would want to receive our Eletter, simply forward this email and they can click here to complete the E-letter form.
---
Kline & Specter named Best 2013 Law Firm
Kline & Specter was named among the Best Law Firms in the nation for 2013 for Medical Malpractice, Product Liability and Mass Tort Litigation by the independent rating service Best Lawyers. The firm was awarded a "Tier 1" designation, the highest possible, for all three practice areas nationally as well as for general personal injury litigation in Philadelphia. More than 10,000 firms were considered as part of the survey by U.S. News Media Group and Best Lawyers. Kline & Specter also ranked in Tier 1 in previous studies and had been selected as the nation's No. 1 Product Liability firm for 2011-2012. Best Lawyers had previously named Tom Kline its 2013 Philadelphia Medical Malpractice "Lawyer of the Year" while also naming seven Kline & Specter attorneys among its Best Lawyers in America for 2013. The national first-tier rankings were featured in U.S. News & World Report's Money issue on Nov. 20.
---
Kline featured in Sandusky/PSU reports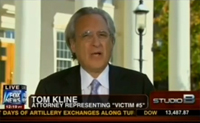 Tom Kline has continued to be called upon by local and national news media for opinion and commentary in the ongoing Sandusky/Penn State litigation. Among his many prominent television and newspaper interviews, Kline was featured recently on Fox National News (watch the report) and on the front page of The Philadelphia Inquirer (read article). In all, he has appeared on hundreds of television newscasts with a total viewership of more than 100 million. For expanded pre-trial, trial and post-trial coverage, click here.
---
Kline to speak at Weekend with the Stars
Tom Kline will address the American Association for Justice's annual Weekend with the Stars Seminar. The event is scheduled for Dec. 7-8 at the New York Hilton Hotel. This is a premiere AAJ event. Kline will speak on "Point and Click Medicine," which will focus on the medical errors in the era of computerized medical records. For details and registration, click here.
---
Two new attorneys added

Kline & Specter added two new attorneys to its roster, bringing the firm's total to 34. The firm was founded in 1995 with four lawyers.
Christine V. Clarke was a top student and orator at Temple University's Beasley School of Law, where she graduated cum laude and was a Beasley Scholar, editor of the Temple International & Comparative Law Journal and won three awards for Outstanding Oral Advocacy. She did her undergraduate work at James Madison University, where she majored in communications studies and graduated magna cum laude. She previously worked five summers at Kline & Specter and while at Temple worked with the Philadelphia District Attorney's Office, representing the city in felony preliminary hearings and misdemeanor trials.
Braden R. Lepisto graduated from the University of Pennsylvania Law School, where he was the senior editor for the Journal of Business Law. He also did his undergraduate work at Penn, graduating with a B.S. in economics from The Wharton School. Lepisto worked summers before joining Kline & Specter as a law clerk with the Los Angeles City Attorney's Office and also with the international law firm Dewey & LeBoeuf LLP, in Washington. At Penn, Lepisto was a standout wide receiver on the football team, playing varsity all four years and twice earning All-Ivy League honors, finishing with 102 career catches (6th best on Penn's all-time list) and 1,283 yards (8th).
---
Tiger recognized for pro bono efforts

Michelle Tiger was recognized by The First Judicial District of Pennsylvania Pro Bono Publico Award and Roll of Honor given in recognition of members of the bar "who are truly outstanding in providing free legal services to underprivileged citizens in Philadelphia." Tiger is a volunteer for the Child Advocates, currently representing a two-year-old boy who was taken into custody by the Department of Human Services after being found unresponsive after being suspected of ingesting some of his parents' narcotics. Tiger attends dependency hearings at Family Court in the child's interests and also visits him at his foster home and checks on the parents' compliance with court-imposed programs. The Pro Bono Roll of Honor was published recently and attorneys winning the award were honored at a reception held Oct. 24.
---