Ohio power line case settles for record $60 million

Kline & Specter attorneys Shanin Specter and Kila Baldwin served as co-counsel with Cleveland lead attorney Mike Becker in the largest settlement of a personal injury case in Ohio history. The case, Thomas v. First Energy, involved a 12-year-old girl who was catastrophically injured when she came into contact with a downed, energized power line. The line had fallen during the remnants of Hurricane Sandy in October 2012 and remained downed and energized for several days despite several calls to the power company. The case was settled for $60 million in September by Becker. This follows the record $109 million verdict and subsequent $105 million settlement by Specter, Baldwin and Dominic Guerrini, in which Carrie Goretzka, a 39-year-old wife and mother, was killed when an improperly spliced power line fell on her as she was standing in her front yard on a clear, sunny day in western Pennsylvania. That case led to substantial reforms by West Penn Power and the Pennsylvania Public Utility Commission. Also, Specter, Baldwin and Guerrini recently filed suit against another First Energy subsidiary, Metropolitan Edison, on behalf of the family of Thomas Poynton Jr., 31, who was killed by a fallen power line in his backyard in Easton, Pennsylvania. Poynton was electrocuted when he stepped onto the grass some 50-70 feet away from the fallen line.


Tom Kline honored by PTLA with Musmanno Award

More than 400 people packed the Hyatt ballroom as the Philadelphia Trial Lawyers Association awarded its 37th annual Justice Michael A. Musmanno Award to Tom Kline, whom the organization called "a legendary trial lawyer admired widely not only for his skill and achievements in the courtroom but also for his commitment to trial advocacy." Kline was introduced at the event by fellow trial lawyer and friend Robert Mongeluzzi. "Tom Kline is the greatest trial lawyer of our generation and … one of America's greatest lawyers," he said, adding, "He is a man of kindness and compassion and love." In his own speech, Kline talked largely about his past clients, many of whom were present at the celebration, from his most noteworthy cases. He praised them for having the courage to endure lengthy public trials to get justice and, in the process, help improve public safety for all citizens. "Trial by jury is the great equalizer," Kline told the audience. "It is what elevates us as a people. It is what empowers us as a nation. It is the bedrock of our commonwealth, our nation and our democracy."
Caputo, Williams aided whistleblower in $5.85 million case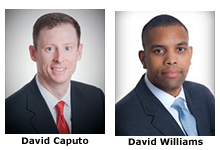 David J. Caputo and David C. Williams represented a whistleblower in litigation in which an Arizona health system agreed to pay the federal government $5.85 million to resolve claims that it billed Medicare for inflated employee work hours. Federal prosecutors alleged that between 2006 and 2009, Yavapai Regional Medical Center misreported the hours worked by its employees, which inflated the wage index for the Prescott area and that as a result of Yavapai's false claims federal health care programs paid substantially more than was warranted. The settlement, announced by the Justice Department on Oct. 4, resolved a lawsuit filed in April 2016 by whistleblower Gregory Kuzma, who was represented by Kline & Specter. Kuzma filed his suit under the qui tam provisions of the False Claims Act, which allow private citizens to bring civil actions on behalf of the United States and share in any recovery. Kuzma's reward in the case was $1.17 million. The case was the second major settlement for Caputo and Williams in Arizona, where in 2014 they represented a whistleblower in litigation that resulted in a $35 million settlement with a healthcare system over alleged Medicare fraud -- the largest settlement of its kind in that state's history. The whistleblower in that case received a reward of nearly $6 million. (Read the news release)
Kline & Specter wins award for medical malpractice practice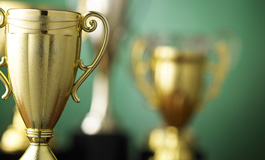 The Legal Intelligencer selected Kline & Specter as its winner for Litigation Department of the Year 2016 for Medical Malpractice. The nation's oldest legal newspaper announced its awards recently for nine categories, including general litigation, insurance, labor and employment, class action and professional liability. The winners, which were profiled in a special supplement on Oct. 18, were chosen by editors on the staff of The Legal Intelligencer. Winners were selected based on "big victories and important cases that demonstrate why clients choose them when litigation is on the table." Those considered were firms whose work was done primarily by Pennsylvania lawyers but with litigation conducted not only in the commonwealth but also in the rest of the country. Kline & Specter attorneys have won among the largest medical malpractice awards in Philadelphia and throughout the region. An award dinner is scheduled for Nov. 3 at the Crystal Tea Room in Philadelphia.
Specter interviewed by consumer activist Ralph Nader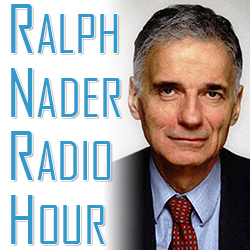 Shanin Specter was interviewed on the The Ralph Nader Radio Hour for Pacifica Radio Network (listen to the program) and also made an appearance on the Nader-run symposium "Breaking Through Power" held at Washington's Constitution Hall on Sept. 29. Nader discussed how many of Specter's cases have resulted in societal change. "Regrettably, a lot of people think that the civil justice system is just about money and money changing hands from defendants to plaintiffs," Specter told the radio audience. "But the reality is that when people have this kind of harm occur, they are largely interested in seeing improvement and that their loved one's injury or death has not been in vain." (Watch video)

Elia Robertson joins Kline & Specter

Kline & Specter welcomes to the firm Elia A. Robertson, a former assistant Philadelphia district attorney and standout law school trial team competitor. While a DA, Robertson worked with the Juvenile Unit on cases involving domestic violence and sexual assault. Her prior experience also includes a clerkship with Community Legal Services, Inc., where she worked with the elderly and people with disabilities. Robertson earned her law degree from the Thomas R. Kline School of Law at Drexel University, where she graduated with honors and won several academic awards in the field of trial advocacy. She also won the James J. Manderino Award for Trial Advocacy from the Philadelphia Trial Lawyers Association. Robertson was a regional mock trial champion in the Texas Young Lawyers National Trial Competition and a semi-finalist in the American Association of Justice Trial Advocacy Competition. With the Moot Court Board, Robertson won the title of "Best Overall Advocate" in the school's internal competition, and won the Best Student Brief Award in the Vanderbilt National First Amendment Competition. Robertson earned her undergraduate degree with honors from Saint Joseph's University.

Williams joins Executive Board of Barristers' Association


David Williams was sworn in as a member of the Barristers' Association of Philadelphia Executive Board. The association, established in 1950 and with a network of some 1,000 lawyers and judges, helps address the professional needs and development of black lawyers through seminars, cultural events and publications. It also recognizes the need, and its obligation, to be a pro-active advocate for the cause against injustice. Members in 1973 served on the Liacouras Commission investigating ways to eliminate racial discrimination in bar admission procedures and in 1978 they aided in an action against the Philadelphia Registration Commission that resulted in registering an additional 50,000 Philadelphians to vote. The Barristers' Association more recently has sponsored activities promoting youth awareness and career opportunities in the legal profession while also increasing citizen awareness of their rights under the law. It has also awarded scholarships to minority law students at area law schools.
Specter praised on Penn Law site

The University of Pennsylvania Law School highlighted a comment about Shanin Specter, a long-time adjunct professor at the school, on a section of its website titled "Why Penn Law?" The mention comes in a testimonial by former student Jai Anant Dehadrai, LLM '13, who wrote: "Part-time professor and full-time trial attorney, professor Shanin Specter lays threadbare the secrets that have led him to become one of America's finest lawyers — and perhaps the most respected as well." (Visit the site)
Specter has served as an adjunct professor at Penn Law since 2000, teaching "Trial Advocacy," "Practice of Law," "The Civil Justice System as an Agent of Change," and "How to Ask a Question," which he is currently teaching to a class of 99 students. Specter earned his law degree at Penn and his Masters in Law at Cambridge University.

Specter donation opens three new squash courts

The Racquet Club of Philadelphia and The Historic Preservation and Education Fund of The Racquet Club held a ribbon cutting ceremony to celebrate the grand opening of three new singles squash courts at the club. The opening was made possible with a gift from long-time member and avid squash player Shanin Specter. It will double the number of singles courts at the club, which also has one doubles court. "This incredibly generous gift kicked off a new chapter in the club's history and encourages all of us to contemplate meaningful donations to support the historic preservation of our treasured building," the club said in a statement, noting the additional courts will also promote the game of squash within the community at large.


"Danger Above" reviewed by Midwest

Danger Above, the book about a Kline & Specter case revolving around the trial against a power company for the family of a woman who was electrocuted by a fallen power line, won praise from Midwest Book Review. MBR, founded in 1976, is an organization committed to promoting literacy, library usage, and small press publishing. It publishes monthly book reviews designed for community and academic librarians, booksellers, and the general reading public. Following a synopsis of Danger Above, an MBR reviewer wrote the following: "An inherently fascinating and consistently compelling read from beginning to end, 'Danger Above: A Tragic Death, An Epic Courtroom Battle' is an extraordinary account -- one that will linger in the mind and memory long after the book itself has been finished and set back upon the shelf. Exceptionally well written, organized and presented, 'Danger Above' is unreservedly recommended … " For more information on the book, visit www.dangerabovebook.com
Special delivery for Tom Kline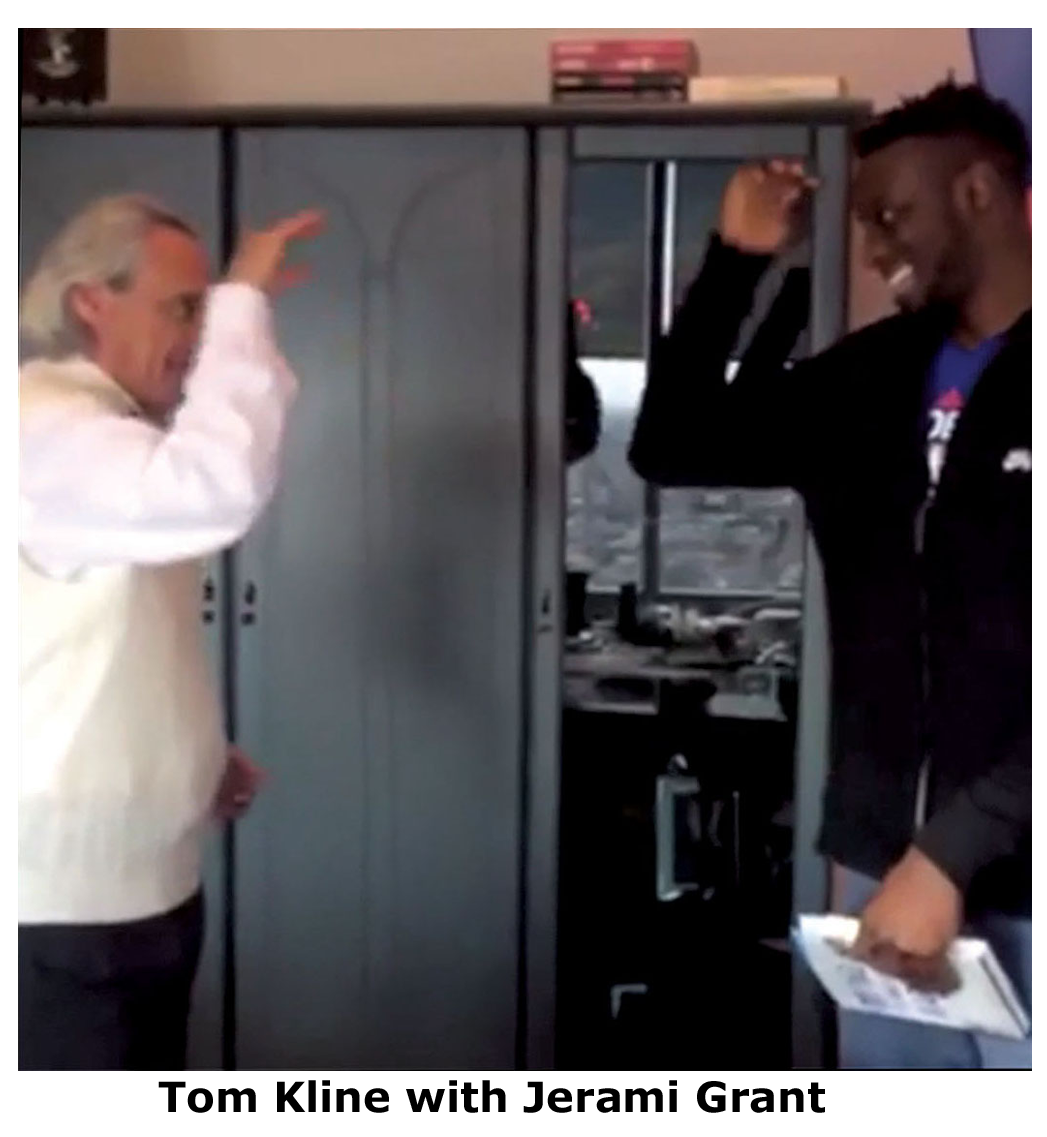 The 76ers Jerami Grant displays his skills with a special delivery of season tickets to Tom Kline, a diehard (and front row) Sixers fan. Watch the duo in action vine.co/v/5gBD5w50BTz
Join Us on Social Media

Follow us on Facebook, Twitter, Google+ or go to www.klinespecter.com and "like" us, tweet our pages or "share" on Google+

Like us – Review us with 5 Stars …

---

Get Our Eletter

If you know someone who would want to receive our Eletter, simply forward this email and they can click here to complete the E-letter form.

---
| | |
| --- | --- |
| Copyright©2004-2016 Kline & Specter. All rights reserved. | Email Us: [email protected] | Toll Free: 1-800-243-1100 |