Specter goes 2-0 in vaginal mesh verdicts

Shanin Specter and his team won a second verdict against Johnson & Johnson in a case involving vaginal mesh, a defective product that has caused permanent injury to women across the country. The latest verdict was $13.5 million – $3.5 million compensatory and $10 million in punitive damages — for a Toms River, N.J., woman who had the plastic mesh device surgically implanted in 2005 to relieve urinary incontinence. The mesh caused Sharon Carlino, now 58, to suffer severe pain during sexual intercourse. Specter told the jury in Philadelphia Common Pleas Court that J&J subsidiary Ethicon knew of the hazards the vaginal mesh presented yet failed to alert patients or doctors, putting profit over patient safety. That, he said in his closing speech, was "the epitome of recklessness. It's why they built this courthouse, and this courtroom, and why you got a court summons. You've got to straighten it out. It's as simple as that." The verdict was unanimous. It came just two months after Specter tried the first Philadelphia vaginal mesh case to a $12.5 million verdict for an Indiana woman. Handling the case with Specter were Kline & Specter attorneys Kila Baldwin, Michael A. Trunk and Michelle Tiger, and Richard A. Freese and Calle Mendenhall, of Freese & Goss, of Birmingham, Al.


$25 million settlement reached in
med-mal case

Shanin Specter, Regan Safier and Mark Polin litigated and settled at trial a medical malpractice case against a Pennsylvania hospital for $25 million. The case concerned improper emergency room care provided to a 67-year-old man, resulting in a brain injury. The emergency room physician was improperly credentialed by the hospital. For the protection of the community, and as a condition of settlement, Kline & Specter insisted -- and the hospital agreed -- to remove the physician from the hospital staff. Other details are confidential. Two other law firms had rejected the case before the victim's family sought the help of Kline & Specter.
Top four Philly verdicts of 2015 won by same firm – Kline & Specter

Kline & Specter had the Top 4 verdicts of 2015 in Philadelphia. Shanin Specter, Dominic Guerrini and Patrick Fitzgerald won a $38.5 million punitive damages award against a security company at the Kraft Foods plant at which two women were gunned down by a former employee. That verdict was the largest of 2015 and followed compensatory damages of $8.02 million awarded by a different jury in a separate trial and constituted the year's fourth largest verdict. The second largest was Specter's $12.5 million verdict against a Johnson & Johnson subsidiary for an Indiana woman who was injured by a defective medical device, namely a surgically implanted vaginal mesh. Kline & Specter's Andy Stern and Elizabeth Crawford won a $10.1 million verdict in Philadelphia Common Pleas Court against Children's Hospital of Philadelphia for a baby who suffered brain damage due to late diagnosed meningitis. The firm got off to a quick start in 2016 with another verdict in a vaginal mesh case, this one a $13.5 million award by a Philadelphia jury for a Toms River, N.J. woman.
New national champion crowned – for trial skills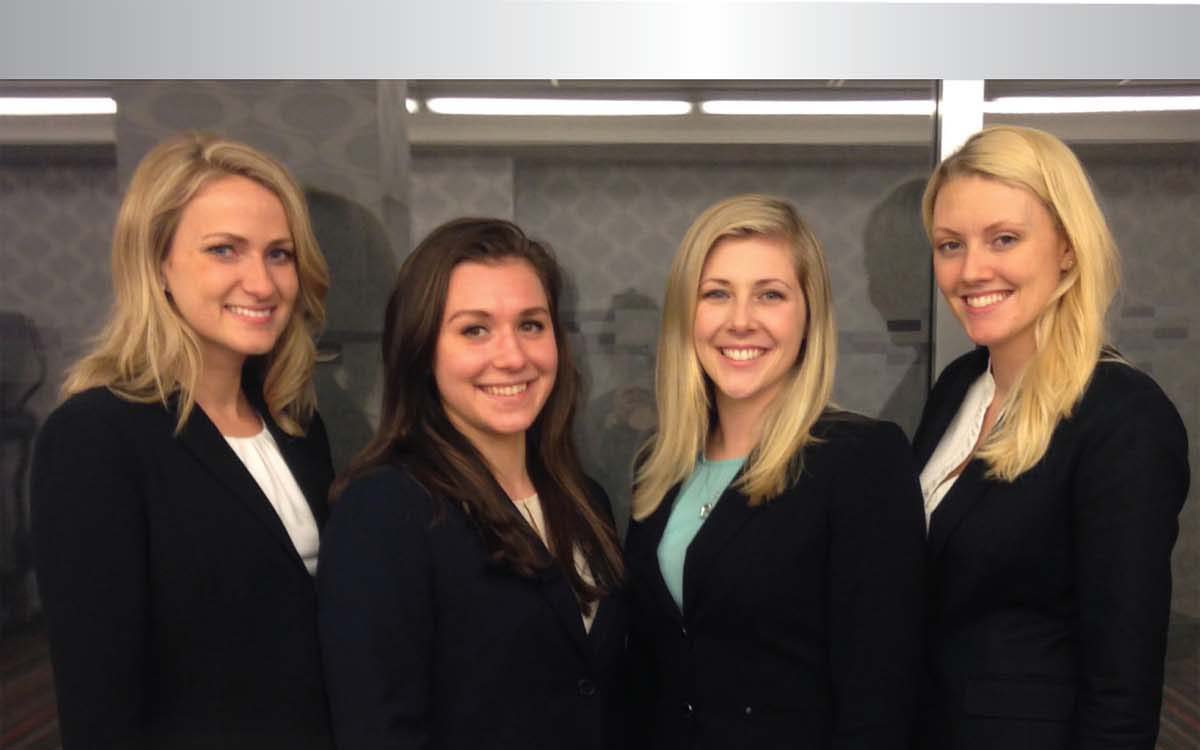 Harvard, Yale, Georgetown, Kline. And the winner was – Kline, as in the Thomas R. Kline School of Law at Drexel University. The prize was the national championship in the 2016 American Association for Justice Student Trial Advocacy Competition. The goal: to demonstrate "the skills and savvy to secure justice" on behalf of future clients. The four-student Kline team won among 223 teams from 135 American law schools entered and seeking to prove their mock trial skills before panels of experienced lawyers and judges. Members of the Kline team were Katrina Mavroudis, Rachel Holt, Kelsey Ashworth and Jill Schroeder. Their coaches were alumnae Abbie Heller, Carla Wasko and Professor Gwen Roseman Stern. The competition finals were held in New Orleans. (Georgetown took second place.)

Stern, Crawford get six results in six jurisdictions

While they don't keep records for this, Andy Stern and Elizabeth Crawford must have set some sort of mark for winning substantial verdicts and settlements in different venues in and around the Philadelphia area within one year. The number was SIX. And all were multi-million dollar cases. The latest was a settlement against a hospital-related pediatrician for failure to diagnose and treat hydrocephalus in an infant, a medical error that resulted in severe and permanent brain injury consistent with autistic features. The case settled just after jury selection and as opening statements were to begin for trial in a suburban Philadelphia county. Further details of the case were confidential. Just a few months ago, Stern and Crawford obtained an eight-figure confidential settlement with New Jersey medical providers for malpractice following an orthopedic-related surgery, resulting in permanent brain damage to a teenager. Last November, the duo won a $10.1 million verdict for a mother and her 11-month-old son against physicians at Children's Hospital of Philadelphia for failing to timely diagnose bacterial meningitis. The boy, now six years old, suffers deafness and significant developmental delays. Among other cases were those in Delaware County, Pa., and in federal court in the Eastern District of Pennsylvania.


Kline comments on Amtrak Train 188 crash

"The detailed medical information added to the docket today underscores the horror and magnitude of this senseless tragedy," Tom Kline was quoted as saying by The Philadelphia Inquirer on March 10 in an article about a government report released about the Amtrak Train 188 crash. (Read the article) The National Transportation Safety Board identified 164 people only by gender and age coupled with an inventory of their injuries. Eight passengers also died in the May 12 incident. The injury list was extensive, with many victims suffering multiple fractures, contusions and lacerations. The information followed the release in February of more than 2,000 pages of documents compiled by the NTSB in its attempt to determine a probable cause for the crash, which occurred when the train derailed as it sped up to 106 mph in a curve marked for 50 mph in Philadelphia's Frankford section. Brandon Bostian, the engineer, has told the agency that he did not remember what happened but Kline, in an earlier news conference, placed blame squarely on Bostian and a lack of technology that would have automatically slowed the train. (Watch CBS Evening News)
Becker comments on NFL concussion settlement

The $1 billion settlement that the NFL has reached with thousands of former players who suffered permanent injuries due to concussions should be broadened to also include those who suffered chronic traumatic encephalopathy (CTE). That was the opinion voiced by Charles "Chip" Becker in a recent article by The Legal Intelligencer. Becker wants a federal appeals court reviewing the settlement to broaden the agreement to include the ailment. Currently the settlement provides compensation only for former football players with diseases such as Alzheimer's and Parkinson's. CTE is a degenerative neural disease associated with repeated blows to the head, making the victim appear "punch drunk." Said Becker: "The settlement leaves a huge swath of guys out in the cold." He said an estimated 15,000 former players may suffer from CTE. Read the entire story in The Legal Intelligencer.

Recruit on campuses, Specter exhorts
in article

In a lead story in the March 2016 issue of Trial magazine published by the American Association for Justice, Shanin Specter encouraged plaintiffs' attorneys to recruit on law school campuses. Often, he noted, law students don't know much about the "nature and excitement" of plaintiff personal injury practice. "By not recruiting at law schools, plaintiff firms are missing an opportunity to access a ready pool of talented law clerks and future associates. The on-campus interview process can be dynamic," Specter wrote. He noted that even if the process does not result in a hire, important networking connections are made for the future and the interaction with students helps future attorneys, judges and legislators to "understand the importance of the civil justice system and protecting victims' rights." Read the full article.  


Stern holds medical malpractice CLE

Andy Stern presented a CLE at the Thomas R. Kline School of Law at Drexel University on how to handle claims of a patient's comparative negligence at trial. The basis for the two-hour program stemmed from two recent verdicts won by Stern: a $7.4 million award in Delaware County in a case involving a patient who was non-compliant with his doctor's orders and medication and a $10.1 million verdict in Philadelphia involving a patient who chose not to undergo certain rehabilitative surgeries to potentially improve his outcome. In both cases, defendants attempted to challenge liability and mitigate damages with claims of comparative negligence. At the CLE, Stern presented useful tips on how to handle those claims and actually use them to your advantage at trial. At one point, he stated: "In the Cuff case, I would have preferred no claim of comparative negligence. However, it ultimately gave the jurors the opportunity to do what was right, i.e., to compensate my client for poor care and yet also allow for a reduction due to his alleged non-compliance."
Specter elected to US Squash Board

Shanin Specter was elected to the Board of Directors for US Squash, the organization which serves as the national governing body for the sport in the United States. Founded in 1904 and headquartered in New York City, US Squash is a member of the U.S. Olympic Committee, the Pan American Squash Federation and the World Squash Federation. The mission of the organization is to promote the growth and development of the sport. Specter is an avid squash player and contributor. He won a gold medal in the 2005 Maccabiah Games along with other members of the United States' 45-49 team. In 2015, Specter and doubles partner John White won the title in the annual "Best Shot Ball" charity tournament, which raised more than $250,000 to benefit Philadelphia youth. He and Tom Kline donated The Kline & Specter Squash Center at Drexel University, which features seven courts and seating and hosts the Dragons'  Top 10 in the nation squash program.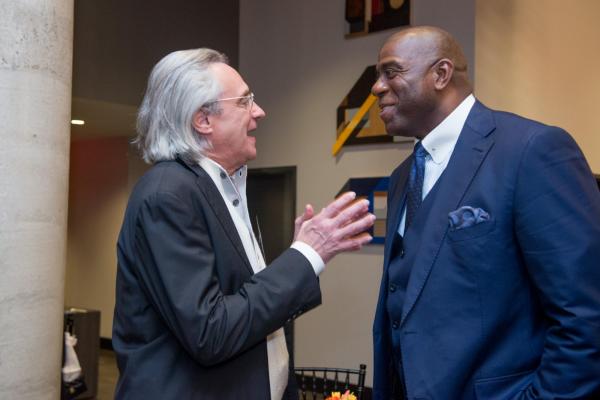 Tom Kline discusses the merits of NBA basketball analytics with Earvin "Magic" Johnson at a Drexel University Board of Trustees dinner to celebrate the opening of The Summit, a 24-story on-campus high-rise apartment tower. Kline is a member of the board while Johnson runs Magic Johnson Enterprises, a food services and facilities management company that helps operate the building that opened last fall and added more than 3,000 beds to Drexel's housing capacity.
Join Us on Social Media

Follow us on Facebook, Twitter, Google+ or go to www.klinespecter.com and "like" us, tweet our pages or "share" on Google+

Like us – Review us with 5 Stars …

---

Get Our Eletter

If you know someone who would want to receive our Eletter, simply forward this email and they can click here to complete the E-letter form.

---
| | |
| --- | --- |
| Copyright©2004-2016 Kline & Specter. All rights reserved. | Email Us: [email protected] | Toll Free: 1-800-597-9585 |