Verdict of $10.1M reached over late diagnosis of meningitis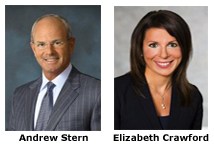 Andy Stern and Elizabeth Crawford won a $10.1 million verdict for a baby who suffered deafness and brain-related injuries after a delay in diagnosis and treatment of bacterial meningitis at Children's Hospital of Philadelphia. Shamir Tillery, of Philadelphia, was taken to the CHOP emergency room on two consecutive days in December 2009 but was discharged without proper treatment. It was not until the third day that doctors diagnosed meningitis and the child was given antibiotics, a delay in diagnosis that Stern told a jury resulted in his serious injuries. Shamir is now six years old and suffers deafness in both ears, difficulty with balance and severe language and learning disabilities. He is not expected to become functionally literate or ever be able to achieve a high school diploma. The verdict, in Philadelphia Common Pleas Court, was the 11th multi-million dollar verdict for Kline & Specter so far this year.

Student hit by bus awarded $4.5M by Pittsburgh jury

Shanin Specter and Regan Safier won a $4.5 million verdict in Allegheny County Common Pleas Court for a college student who lost his leg below the knee after he was struck by a bus while crossing the street in downtown Pittsburgh. Alan Huang was in a crosswalk and walking with the "walk" light when the bus rounded the corner and struck him. The incident occurred after the driver of the bus moved out of the right lane and pulled around another bus that was discharging passengers, then made a right-hand turn through the crosswalk. The Lenzer Coach Lines bus then struck Huang, knocked him to the ground and ran over his left leg, not stopping until passengers aboard the bus began screaming to the driver that he had hit a pedestrian. Huang was found 15 percent contributorily negligent. The case tried in the same Pittsburgh courtroom in which Specter had previously won two large verdicts -- $8.25 million for a tow truck operator who was run over by his own Ford vehicle equipped with a faulty parking brake and $109 million for the family of a woman killed by a fallen power line.


Partnership announced for Risperdal cases, $1.75M verdict

Kline & Specter announced its co-counsel agreement in the representation of more than 8,000 plaintiffs with Arnold & Itkin LLP of Houston, Tex., and Sheller, P.C. in litigation against a Johnson & Johnson subsidiary in cases involving the anti-psychotic drug Risperdal, which has been linked to gynecomastia -- abnormal breast growth in young males. Kline & Specter had already partnered in Risperdal cases with Sheller, P.C., which pioneered the litigation. Shortly after announcing the agreement, brothers Jason Itkin and Cory Itkin obtained a $1.75 million verdict in Philadelphia Common Pleas Court against Janssen Pharmaceuticals for an autistic Maryland boy who started using Risperdal in 2003. That trial featured, among other things, key testimony elicited by Tom Kline and combined courtroom efforts of the Itkin brothers. In the first Philadelphia Risperdal trial to go to a verdict, Kline, along with Chris Gomez of the Sheller firm, last February obtained a $2.5 million verdict for Austin Pledger, another autistic boy who took Risperdal and developed gynecomastia. No other firm in the country has tried a Risperdal gynecomastia case to verdict. An additional 10 cases are scheduled to be tried by the three firms next year. Another case involving a young man with Tourettes syndrome is currently being tried by Kline and Gomez in Philadelphia. For more about Risperdal litigation, click here.
Missed cancer case results in $1.4M verdict
Jim Waldenberger

won a $1.4 million jury verdict for the estate of a Philadelphia man who died after a surgeon and a radiologist failed to detect cancer behind his knee. Josh Debowsky was first diagnosed with osteoarthritis and later was told he needed a knee replacement. But his doctors, despite evidence of an abnormality in Debowsky's X-rays, failed to recognize that he had osteosarcoma, a type of bone cancer. Nothing was done for at least five years while the cancer grew. When the cancer was finally diagnosed in 2011, it was too late. Chemotherapy was unsuccessful and Debowsky additionally contracted sepsis that spread into his lungs. He died at the age of 56. Not diagnosing the cancer in its earlier stages "was essentially a death sentence for Josh," Waldenberger said in his opening speech to the jury. The verdict was handed down in Philadelphia Common Pleas Court.

Supreme Court reinstates $27.6M verdict

Charles "Chip" Becker, the firm's chief appellate attorney, won a ruling from the Pennsylvania Supreme Court, overturning a Superior Court decision that had voided a $27.6 million verdict for a woman who suffered a catastrophic knee injury that left her confined to a walker and wheelchair after participating in a promotional video to demonstrate the success of her knee-replacement surgery. The high court reinstated the verdict for Margo Polett and her husband and against the manufacturer of the synthetic knee, Zimmer Inc., and the producer of the video, Public Communications. The Supreme Court ruled that Polett's treating physician had been properly allowed to testify as an expert in her case and that other trial court decisions were within the lower court judge's discretion. Dr. Robert Booth had told the jury that his patient's injuries resulted from riding a stationary bike during the promotional video.


Medical malpractice case leads to settlement of $15M

Shanin Specter and David Inscho won a $15 million settlement against a Philadelphia hospital in the case of a middle-aged woman who suffered permanent brain damage due to medical malpractice. The woman had been admitted to the hospital for treatment of a heart attack but later experienced additional symptoms and suffered a stroke. The lawsuit claimed that a resident in the intensive care unit treated a headache and vomiting with pain and anti-nausea medicine but failed to order a CT scan of the patient's head. A later scan revealed a large bleed in her frontal lobe but the test was performed too late to prevent brain damage. The patient was left unable to walk and suffers memory problems, unable to recall simple facts such as the ages of her children. She remains in a residential facility. The settlement is confidential and additional details, such as the name of the hospital or the patient, cannot be disclosed.
"House of horrors" case brings settlement vs. city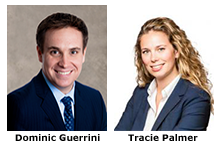 Dominic Guerrini and Tracie Palmer obtained a $3.5 million settlement for an abused young woman in the notorious "house of horrors" case. The civil suit claimed that child advocates, a social services provider and the City of Philadelphia were responsible for a decade of torture endured by Beatrice Weston after she was placed in the hands of an abusive aunt, Linda Weston, a convicted felon. From the age of 10, Beatrice was starved, burned, beaten and forced into prostitution. When police raided a house in the city's Tacony section in 2012, Beatrice, then 20, was found locked in a closet. Four other people were discovered in a basement dungeon in a plot to steal their government benefit checks. Linda Weston was sentenced to life plus 80 years after pleading guilty to numerous charges. This case was featured in inaccurate television campaign ads critical of Judge Kevin Dougherty, who had granted the defendants' request to place Beatrice in the home of her aunt. Judge Dougherty was recently elected to the Pennsylvania Supreme Court despite the ads.

Toypedo incident results in $1.5M settlement

Michael Trunk and Tracie Palmer won a $1.5 million settlement for a suburban Milwaukee man who lost the sight in one eye after he was struck by a Toypedo swimming pool toy. The hard plastic projectile is quite powerful, able to travel as far as 40 feet underwater. It was not Trunk's first case against the manufacturer. Several years ago, he worked with Tom Kline in another case against the maker of the Toypedo involving a 10-year-old girl who was left blind in one eye after playing with the toy. That case settled for $3.75 million. Despite the two cases and possible others, the Toypedo, made by SwimWays, is still sold over the Internet and at stores such as WalMart.


Case settled against City of Williamsport police department

Jim Waldenberger and Braden Lepisto settled a case against the City of Williamsport in litigation that exemplified Kline & Specter's commitment to helping improve safety for citizens. Not only did they reach a $1 million settlement for the family of a client who was killed by a speeding police car, they also obtained assurances that the city would – with their input – adopt new policy regulating police pursuits in the city. Additionally, the Williamsport City Council agreed to issue a public apology to the family of James David Robinson, 42, whose car was struck by a police cruiser traveling at more than 88 m.p.h. and on the wrong side of the street on Jan. 12, 2014. The city also agreed to conduct additional training for police officers operating emergency vehicles. Although Pennsylvania law caps a government entity's liability at $500,000, the larger settlement was reached after Waldenberger and Lepisto said plaintiffs would pursue a federal civil rights claim against Williamsport.
Tom Kline among Business Journal's "Power 76"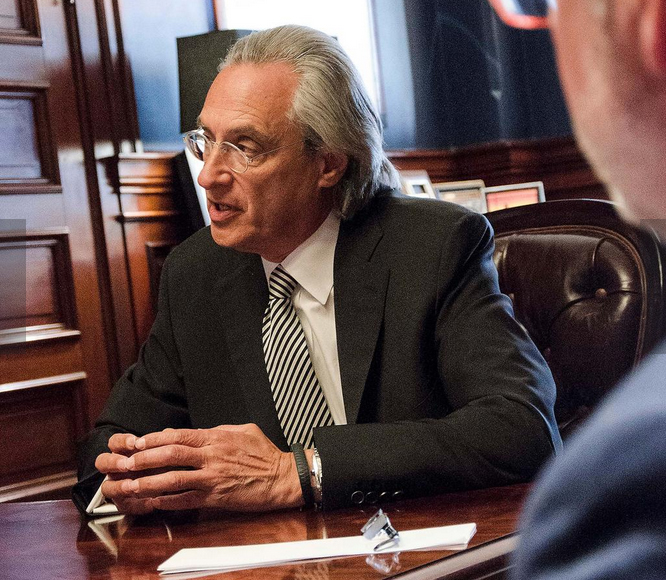 Tom Kline was named in Philadelphia Business Journal's inaugural "Philadelphia Business Journal Power 76," a list of the most influential people in Greater Philadelphia. In selecting Kline, the Business Journal mentioned his law firm as "one of the pre-eminent in the state" and also Kline's $50 million donation to the now-Thomas R. Kline School of Law at Drexel University. Also cited was Kline's role in major civil cases, including his representation of victims of the Amtrak 188 crash. Among others named were Alan Hoffman, managing partner of Blank Rome; Gerry Lenfest, owner of The Philadelphia Inquirer; Govs. Tom Wolf (PA) and Chris Christie (NJ); Mayor Michael Nutter and Mayor-elect Jim Kenney; South Jersey political powerhouse George Norcross; U.S. Attorney for the Eastern District of Pennsylvania Zane David Memeger; John Fry, Drexel University president, and Penn President Amy Gutmann; chef Jose Garces; Flyers GM Ron Hextall and J. Joseph Kim, CEO of Inovio Pharmaceuticals. (See the story)

Specter interviewed about controversy over birth control pill

Shanin Specter was called on by media outlets to comment on a recent controversy – a lawsuit over the mispackaging of birth control pills that may have led to 113 unwanted pregnancies. The packaging error occurred in 2011 and led some women to take sugar pills meant for the week they were menstruating, leaving them without contraception during that week. A total of 3.2 million of the blister packs were recalled as a result. Ninety-four women carried to term and now they are seeking compensation from the company Qualitest, Inc., which is a subsidiary of drugmaker Endo Pharmaceuticals Inc. They want reimbursement for the costs of delivering, raising and educating those children. But Specter told CBS-3 and the Fox Business Network that winning such lawsuits in most jurisdictions will be tough. "Under Pennsylvania law" for example, he said, "the benefits of having a healthy child are considered to outweigh the detriments of having an unwanted child." (Watch the Fox Business Network clip)


2015 Milestones:

Married: Tracie Palmer and Nellie Fitzpatrick, June 20; Dominic Guerrini and Andrea Cortland, Oct. 24.

Born to Braden and Alissa Kur Lepisto, Brooks Elliott Lepisto, on Oct. 15 at 7 pounds, 13 ounces.

Born to Elizabeth and Rob Crawford, Brooke Margaret Crawford, on May 27 at 7 pounds , 4 ounces.

Join Us on Social Media

Follow us on Facebook, Twitter, Google+ or go to www.klinespecter.com and "like" us, tweet our pages or "share" on Google+

Like us – Review us with 5 Stars …

---

Get Our Eletter

If you know someone who would want to receive our Eletter, simply forward this email and they can click here to complete the E-letter form.

---
| | |
| --- | --- |
| Copyright©2004-2015 Kline & Specter. All rights reserved. | Email Us: [email protected] | Toll Free: 1-800-597-9585 |