Jury awards $12.5 million in first Philly vaginal mesh case

In a bellwether victory, a jury awarded a total $12.5 million -- $5.5 million compensatory and $7 million punitive -- against Johnson & Johnson for an Indiana woman injured by a surgically implanted vaginal mesh. The verdict came at the end of a three-week trial and was the first lawsuit among hundreds involving mesh products filed in Philadelphia Common Pleas Court. Shanin Specter and Kila Baldwin, also of Kline & Specter, and Adam M. Slater, of Mazie Slater Katz and Freeman of Roseland, N.J., established that the plastic-like netting made by J&J subsidiary Ethicon was defective and that the company knew and failed to warn doctors about its dangers. The verdict came for Patricia Hammons, 65, who had the implant in 2009 to support her prolapsed bladder. However, erosion of the mesh required two corrective surgeries and left her suffering excruciating pain during sexual intercourse. Some 44,000 lawsuits have been filed against J&J over the product. In January, weeks after the verdict, presiding Judge Mark I. Bernstein tacked on nearly $800,000 in delay damages to the verdicts.


Stern, Crawford win second eight-
figure result

For the second time in just three months, Andy Stern and Liz Crawford obtained an eight-figure result, this time a settlement with New Jersey medical providers for failure to properly monitor, diagnose and treat a patient in a hospital setting following an orthopedic-related surgery. The medical errors resulted in a teenage patient being permanently brain damaged for the rest of his life. The exact amount of the monetary settlement and other details of the case are confidential. In November, Stern, with Crawford as co-counsel, won a $10.1 million verdict for a mother and her son against physicians at Children's Hospital of Philadelphia for failing to timely diagnose his bacterial meningitis despite several trips to the emergency room. The child was 11 months old at the time. Now 6, he suffers from deafness, significant developmental delays and a loss of balance control. In an article about the verdict, The Philadelphia Inquirer noted that while large, the $10.1 million verdict was not nearly the largest for a medical malpractice case in Philadelphia, which was a $100 million verdict in 2000 -- also won by Stern.
Kline & Specter leads all PA law firms
Kline & Specter led all law firms with the most verdicts and settlements in the Top 50 in Pennsylvania in the most recent annual report compiled by PaLaw. The list included five for the firm (four of those among the largest 21), with all being jury verdicts. The biggest was $38.5 million in punitive damages awarded by a Philadelphia jury against a security firm for two women shot to death by a former co-worker at a Kraft Foods factory in 2010. For last year, the firm also won two cases in Delaware County: a $21.8 million verdict for a man who was left blind as the result of an operating room error and a $7.4 million jury award for a man who suffered a stroke because of medical malpractice. In a leading trial in the ongoing Risperdal litigation, a jury handed down a $2.5 million verdict for a young autistic man who was prescribed the anti-psychotic medication and suffered an abnormal growth of breast tissue. Kline & Specter also had the most large verdicts and settlements over the past five years, 10 years and 20 years, according to previous years' compilations of the PaLaw report, which tallies publicly reported cases each year from Aug. 1 to July 31. And the firm is off to a fast start for the 2016 report with four major victories, including three results of more than $10 million.

Plaintiffs win yet another Risperdal verdict

Tom Kline, Chris Gomez and Kristen Sipala advanced the massive Risperdal litigation once again, this time adding a $500,000 jury verdict of a 21-year-old Wisconsin college student who experienced abnormal breast enlargement as a result of using the anti-psychotic medication. Timothy Stange suffered the ailment, known as gynecomastia, when he was a 12 year old. He later underwent successful surgical removal of the breast tissue. The December trial in Philadelphia Common Pleas Court featured newly discovered evidence that drugmaker Janssen Pharmaceuticals had knowledge of the link between Risperdal and breast growth going back to 2002. Kline, Gomez and Sipala tried three Risperdal cases in 2015 and a fourth was tried by Jason and Corey Itkin of Arnold & Itkin. Kline & Specter, Arnold & Itkin, of Houston, Texas, and the Philadelphia firm of Sheller PC, which pioneered the Risperdal litigation, have formed a partnership representing approximately 8,000 Risperdal victims. In every one of the four trials, juries found that Janssen failed to warn physicians of the risk of gynecomstia associated with Risperdal. In the first case, Kline and his team won a $2.5 million verdict for a young autistic Alabama man. Jason Itkin won a verdict of $1.75 million. In the fourth case, a jury found that Janssen failed to adequately warn about the risk of Risperdal but not that the drug was the cause of gynecomastia in a young man.


Two new lawyers join Kline & Specter

Christopher A. Gomez and Andrew F. Albero joined Kline & Specter, bringing the firm's total number of attorneys to 36, a high-water mark since its founding in 1995. Gomez worked previously at Sheller, P.C. and helped lead the way in litigation involving Risperdal, the anti-psychotic drug linked to gynecomastia, or abnormal breast growth in boys and adolescent males. Albero worked previously for two of Philadelphia's largest and most successful law firms, Obermayer Rebmann Maxwell & Hippel, LLP and Post & Schell, P.C., where he represented doctors, hospitals and major Philadelphia health care systems in medical malpractice cases.
President Jimenez takes reins at Hispanic Bar

Kline & Specter's Priscilla Jimenez in January became president of the 400-member Hispanic Bar Association of Pennsylvania, a group dedicated to promoting the social, economic, professional, and educational advancement of Latino/Hispanic attorneys, law students and community members. In taking the elective office, Jimenez announced that Philadelphia will host the Hispanic National Bar Association Convention in 2018. For 2016, the association will present two Continuing Legal Education programs, several community outreach initiatives, a scholarship dinner and an award ceremony recognizing the confirmation of Judge L. Felipe Restrepo as the first Hispanic federal judge from Pennsylvania on the U.S. Court of Appeals for the 3rd Circuit.

Specter appears on new BET show

Shanin Specter was interviewed on the BET network's new documentary series "Criminals at Work," a docudrama about heinous acts committed in the workplace. The show included interviews and a detailed dramatization of the events of Sept. 10, 2010 when a fired worker at the Kraft Foods plant in Northeast Philadelphia returned with a gun, killing two former co-workers. Interviewed were witnesses to the incident and its aftermath, including Specter, who filed suit on behalf of the families of the slain workers. The civil case resulted in verdicts totaling $46.5 million against the security company at the plant. (Watch the show)


Specter authors article about Cambodia

Following a trip with his family to Cambodia, Shanin Specter wrote an article for The Philadelphia Inquirer describing the state of that nation, which he termed "a study in social and economic deprivation (where) the unifying theme appears to be government disinterest in the well-being of its citizens." But he cited hope, mainly from non-governmental organizations that help do everything from run schools and orphanages to removing land mines. (Read the article)
David Inscho all wet for Special Olympics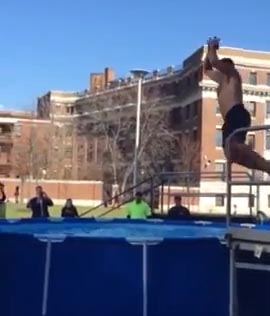 On a chill December Day, David Inscho took the plunge. That would be the Polar Plunge at Drexel University, which sponsored the charity event to benefit the Special Olympics. The event raised some $50,000. Inscho was one of more than 100 brave souls from businesses, universities and high schools who jumped into a freezing cold pool at Drexel University to help fund the work of the Special Olympics. At the plunge, Inscho, once he toweled off, got the chance to meet several of the Special Olympic athletes and talk about their experiences. With the help of donations and 40,000 volunteers, Special Olympics Pennsylvania provides children and adults with intellectual disabilities the opportunity to participate in sports year-round, completely free of charge. (Watch Inscho take the plunge)

Join Us on Social Media

Follow us on Facebook, Twitter, Google+ or go to www.klinespecter.com and "like" us, tweet our pages or "share" on Google+

Like us – Review us with 5 Stars …

---

Get Our Eletter

If you know someone who would want to receive our Eletter, simply forward this email and they can click here to complete the E-letter form.

---
| | |
| --- | --- |
| Copyright©2004-2016 Kline & Specter. All rights reserved. | Email Us: [email protected] | Toll Free: 1-800-597-9585 |