Caputo, Zakeosian win $21.8M verdict in Delco

David Caputo and Gary Zakeosian won the first big verdict of 2015 with a $21.8 million jury award handed down by a Delaware County jury for a man who lost his sight as the result of prolonged back surgery. The medical malpractice verdict was decided for plaintiff Bruce Drainer, who was left blind and with a worse back condition following almost nine hours on the operating table. Found liable was neurologist Hagop L. DerKrikorian, who performed the back surgery in 2012. According to the lawsuit, Drainer developed arterial hypotension before his operation and his blood pressure was inadequately monitored over the lengthy surgery during which he remained in the prone position under general anesthesia. Not only did the patient lose his vision but he was forced to endure two additional back surgeries and worsening back pain and numbness and weakness to his lower extremities.

Kline & Specter wins first-in-nation Risperdal verdict

Tom Kline, Christopher Gomez and Kristen Sipala won a $2.5 million jury verdict for a boy who developed female breasts after using the antipsychotic drug Risperdal. The condition, gynecomastia, is permanent and incurable and can only be remedied by surgery, namely a mastectomy. The trial was a bellwether case, the first of more than 1,200 lawsuits filed in Philadelphia and thousands more nationwide against the maker of Risperdal, Janssen Pharmaceuticals. The trial lasted five weeks before a jury handed down its verdict for Austin Pledger, now 20, of Alabama. Gomez and Steven Sheller of Sheller P.C. are co-counsel in the case and in the joint Risperdal project involving thousands of claimants. Kline was lead trial counsel.
 Jury finds against security firm in Kraft slayings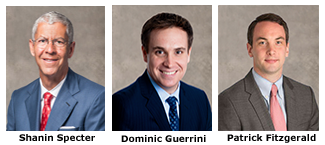 A Philadelphia jury handed down an $8.02 million verdict against a security company for the families of two women who were gunned down by a disgruntled employee at the Kraft Foods plant in Northeast Philadelphia in 2010. The verdict was won by Shanin Specter, Dominic Guerrini and Patrick Fitzgerald. The jury found U.S. Security Associates, Inc. liable in the deaths of Tanya Wilson, 47, and LaTonya Brown, 36. They were slain after a dispute in which Yvonne Hiller was suspended from her job and returned armed with a gun. The USSA security guards had failed to escort Hiller off the property and when she returned they failed to alert Kraft management. Minutes later, Hiller shot and killed Brown and Wilson.
Inscho, Becker obtain settlement vs. city in 1999 case

David Inscho and Chip Becker secured a $950,000 settlement for a little boy who was beaten by his father's girlfriend after the youth was placed in the couple's care by the Philadelphia Department of Human Services. A foster couple had wanted to adopt seven-year-old William Saunders, Jr. and he had flourished in their home for two years. But DHS dropped any notion of adoption when the boy's biological father arrived on the scene. The agency placed the child with the father and his girlfriend despite the fact that their home – an alleged scene of alcohol and drug abuse, violence, and physical and verbal abuse – posed a danger to the youngster. The situation culminated on a July 1999 day when the girlfriend slammed the boy's head into a wall, causing permanent brain injury.

Inscho, Williams win against Big Brothers in assault case

David Inscho and David Williams won an important court ruling against the national Big Brothers/Big Sisters organization as it sought exclusion from a lawsuit by an alleged sexual assault victim. The plaintiff claimed that he had been molested by a mentor of one of the group's affiliates and sued the mentor, the national organization and a local affiliate. The national group claimed in Philadelphia Common Pleas Court that it was not liable for its affiliate branch. But Judge Frederica Massiah-Jackson disagreed, saying: "This court cannot conclude as a matter of law that Big Brothers of America did not possess the means, the manner or ability to control the acts and conduct of Big Brothers of New Jersey." The case settled shortly after the ruling. The amount of the settlement is confidential.
Court ruling no cause for despair, Law 360 told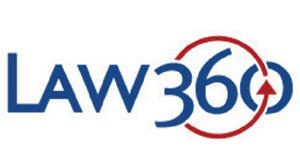 Tom Kline and Shanin Specter were cited in a Law360 article opining that defense attorneys were overplaying a recent Pennsylvania Supreme Court ruling as a means for diverting cases out of Philadelphia. The ruling in Alexander Bratic v. Charles Rubendall found that the burden placed on key witnesses justified a decision to transfer a lawsuit from Philadelphia to Harrisburg. But, Law 360 noted that Kline and Specter questioned whether the high court's ruling would help defendants in pursuing future forum non conveniens motions. Kline told the newsletter circulated among 400,000 attorneys nationwide: "Where you have a complete factual record and everything takes place in a county that is a significant way away — and Harrisburg is a hundred miles from Philadelphia — then we've always known that would raise the potential for a venue challenge. The playing field was not changed significantly as I read the case and it's not a cause for celebration or despair."
Law School named national leader in pro bono work

The Thomas R. Kline School of Law at Drexel University was named among the nation's Top 10 law schools for ensuring that students gain pro bono experience. The distinction was announced by the independent lawyer review service Super Lawyers. It noted that the law school, named for Tom Kline last September, requires a minimum of 50 hours of pro bono service by its students, which puts it on a footing with law schools at Columbia University and the University of Pennsylvania. The information was contained in an article titled: "Top 5 Things to Consider When Selecting a Law School." Most Kline Law School students far exceed the 50-hour minimum. In 2014, for instance, they provided more than 14,000 hours of pro bono service, an average of 102 hours per graduate.

New school will transform Philly, Journal predicts

The Philadelphia Business Journal recently compiled a list of 50 things it predicts will transform Philadelphia. Among those things: the Thomas R. Kline Institute of Trial Advocacy planned for the former Beneficial Bank building at 12th and Chestnut streets. The institute is part of the $50 million gift given by Kline to the newly named Thomas R. Kline School of Law at Drexel University. The institute is expected to open for the fall semester in 2016. Other game changers on the newspaper's list: the new master plan for the 30th Street Station area, the city's growing population of millennials and its new bike-share system.
Tiger helping children through pro bono work

Michelle Tiger is currently working on three cases as a volunteer with The Support Center for Child Advocates. Tiger is representing child victims of abuse and/or neglect. As part of a team with Child Advocate Social Workers she attends court hearings and status conferences and participates in home visits to make sure children are safe and secure and are receiving all of the services they need. "It has been a great opportunity to give back to the community and to help by providing legal assistance to children and families in very difficult situations," says Tiger about her pro bono work. "I have also learned so much from the child advocates social workers and the center's full-time attorneys."
Smerconish looking good
Michael Smerconish has received plenty of plaudits for how he sounds on radio and television. Now the national radio talk show host and host of "Smerconish" on CNN has been named among America's best dressed. Smerconish, who is of counsel at Kline & Specter, got this review from Stone on Style: "Mike Smerconish -- He used to be more conservative, and frankly, a lousy dresser. But as he has moved from Philly radio to Sirius Radio/CNN his look has steadily improved. He mixes jeans with tasteful sports jackets. His neckwear on camera is solid. Smerconish makes the grade."
Join Us on Social Media

Follow us on Facebook, Twitter, Google+ or go to www.klinespecter.com and "like" us, tweet our pages or "share" on Google+

Like us – Review us with 5 Stars …

---

Get Our Eletter

If you know someone who would want to receive our Eletter, simply forward this email and they can click here to complete the E-letter form.

---
| | |
| --- | --- |
| Copyright © 2004-2014 Kline & Specter. All rights reserved. | Email Us: [email protected] | Toll Free: 1-800-597-9585 |