Trunk, Zakeosian win late night Delco verdict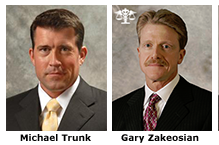 Michael  A. Trunk and Gary Zakeosian won a nearly $2.8 million verdict for Bonnie Semple of Aston, Pa. who was injured in a medical malpractice case involving a tracheostomy at Crozer-Chester Medical Center in 2009. The incident occurred after Semple, now 56, was taken to the hospital following an auto accident. In performing the tracheostomy, a surgical procedure in which an opening is made through the neck to create an airway, a tube was placed too high, causing permanent damage to Semple's larynx and trachea. She now must breathe through a trachea tube for the rest of her life. The verdict in Delaware County Court came after a weeklong trial and five hours of jury deliberations that ended at 9 p.m. on a Friday night. Verdicts for plaintiffs in medical malpractice cases are rare in suburban Philadelphia counties. In Delaware County, for example, there were only five plaintiffs' verdicts from 2011-2014 while defendants won 22 times, according to court records.
Specter named Product Liability Lawyer of the Year

Shanin Specter was named Philadelphia Product Liability Lawyer of the Year for 2016 by Best Lawyers, while the independent rating service named six Kline & Specter lawyers as among the best in the nation. They were Specter; Tom Kline, a Best Lawyer's Philadelphia Medical Malpractice Lawyer of the Year; Andrew Stern, the 2015 Philadelphia Product Liability Lawyer of the Year; Lee Balefsky, head of the firm's Mass Tort Department; Michelle Tiger, who also works with mass torts; and Chip Becker, head of the Appellate Division. All had been named in previous years to Best Lawyers' guide to legal excellence, with Tom Kline and Shanin Specter receiving the recognition for the 14th year. Best Lawyers magazine had previously featured Kline and Specter individually in cover stories and together in 2012 with an article about their charitable giving. (See the article) In addition, Kline & Specter has been selected as the nation's No. 1 law firm for Product Liability and for the "Tier 1" group – the top classification – among all firms in the United States for medical malpractice, product liability and mass tort litigation.

Kline featured in DocuSerial on Risperdal

Tom Kline was featured in a first-of-its-kind 15-part Huffington Post series for his work representing clients in cases involving the prescription drug Risperdal, an anti-psychotic that was prescribed to children and adolescents and caused some to develop female breasts, a condition known as gynecomastia. Earlier this year, Kline won a $2.5 million verdict in a bellwether case against Janssen Pharmaceuticals, a subsidiary of Johnson & Johnson, for Austin Pledger, now 20, of Alabama, who suffered from the ailment after using Risperdal. Kline proved during the trial that Janssen failed to issue adequate warnings about the side effect and was not forthright in informing the U.S. Food and Drug Administration, doctors and patients of the possible risks. Kline & Specter is counsel in the continuing Risperdal litigation with the law firm Sheller, P.C., whose Stephen A. Sheller has pursued the cases for years. The Huffington Post DocuSerial, titled "America's Most Admired Lawbreaker," was authored by journalist Steven Brill, who revealed the inside story of the illegal promotion of Risperdal to children and the elderly. The series has already been read by more than one million people. Read it here
Kline, Inscho representing priest abuse victim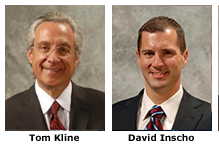 Kline & Specter's Tom Kline and David Inscho, along with noted authority and law professor Marci Hamilton, are representing the family of Sean McIlmail in a lawsuit involving his tragic death following years of sexual abuse by a Catholic priest in the Philadelphia Archdiocese. McIlmail, a former altar boy, was 26 when he died of a drug overdose just weeks before he was to testify at a criminal trial against Father Robert Brennan. The criminal charges were dropped. But the civil case continues, with McIlmail's family claiming the abuse began in 1993, when their son was 11 years old and attended Resurrection of Our Lord Parish School in Rhawnhurst. The civil suit claims that the Archdiocese knew or should have known that Brennan was a danger to children yet "engaged in a policy of secrecy" to cover it up. Watch an exclusive CBS3 interview.
Tom Kline named top philanthropist of the year

Tom Kline was selected as the 2015 Outstanding Individual Philanthropist of the Year, an award presented by the Greater Philadelphia Chapter of the Association of Fund Raising Professionals. Kline was nominated for the award by Drexel University following his donation of $50 million to the university's law school, now the Thomas R. Kline School of Law at Drexel University. The nomination was seconded and supported by the Philadelphia Bar Foundation, the National Breast Cancer Coalition, William Penn Charter School, and Valley Forge Military Academy & College. The award will be presented Nov. 13, which is National Philanthropy Day – and its 30th anniversary in Philadelphia, at a luncheon at the Hyatt at the Bellevue. As many as 1,000 people are expected to attend.

People's lives will depend on you, Kline tells grads

Tom Kline gave the commencement address to the 2015 graduates of the Thomas R. Kline School of Law at Drexel University from the stage of the main concert hall at the Kimmel Center. The address was filled with anecdotes and wisdom from Kline's more than three decades of practicing trial law, expressing serious notes and also humorous reflections. "We hold the lives and livelihoods, the reputations and the rights, the property and privacy, the freedom and the liberty of people who entrust us, in our hands," he told the 129 graduates. "And every matter that you handle, from drafting a real estate closing to a closing argument, involves a person who will rely on you." Kline told the graduates that they might occasionally experience setbacks in their careers but, to quote the late Sen. Arlen Specter, "Never let your face show how hard your ass has been kicked." Kline joked that his $50 million gift to the law school announced last year should help the graduates in future decades remember who gave their commencement speech. "I have made it easier for all of you," he said. "I have put my name on your diploma."
 Smerconish addresses AAJ in Montreal

Michael Smerconish, national TV and radio show host and of counsel at Kline & Specter, delivered the keynote address at the annual convention of the American Association for Justice held in Montreal. He sounded his familiar theme of the polarization of American government and politics. Said Smerconish: "I see Washington today as a manifestation of a media world that's gone polar and taken many of our leaders with it.  Other factors contribute.  Today there is too much fundraising and not enough socializing. Hyper-partisan congressional districts are limiting competition between parties. Our closed primaries are rewarding extremists. Anonymity online is breeding contempt and we are self-sorting where we live and where we get our news. Things will change only when people are prepared to distinguish where they get their entertainment from where they get their news."
Institute becoming a reality

Building renovations have begun in earnest to transform the Beneficial Savings Fund Society building in Center City into the Thomas R. Kline Institute for Trial Advocacy. Creation of the institute was announced a year ago along with that of a $50 million gift by Tom Kline to Drexel's law school, now the Thomas R. Kline School of Law at Drexel University.  That donation included the 24,000-square-foot former bank building at 12th and Chestnut streets, which will give the law school a facility – complete with courtrooms – in which to train students in the essential practical skills of litigation. Students who take Pretrial Advocacy and Trial Advocacy courses will learn trial techniques form experienced trial lawyers through demonstrations of jury selection, opening and closing statements, and direct and cross-examination of witnesses. Students will also learn how computer technology is now used to create and introduce state-of-the-art trial exhibits. The institute's planned opening is fall of 2016.

Becker speaks on appellate issues

Charles "Chip" Becker, head of the firm's Appellate Division, served as a panelist at a CLE for the benefit of attorneys at the City of Philadelphia Law Department. The two-hour program was titled "Getting a Second Bite at the Apple:  Preserving Issues for Appeal." Becker discussed how issues are properly developed, preserved, and pursued in the trial and appellate courts. The presentation reviewed the requirements and best practices around proper presentation and development of issues for eventual post-trial review and eventual appeal. It touched on a range of legal issues, such as justiciability doctrines, the coordination of multiple actions, choosing appropriate forms of action, and various principles of appellate law and procedure. Other panelists included Judge John Younge, Judge Anne Lazarus, and Justice Jane Greenspan.
Hispanic Bar Assn. holds gala, awards scholarships
Kline & Specter was among the sponsors for this year's annual gala of the Hispanic Bar Association of Pennsylvania Legal Education Fund at which scholarships were presented to Latino law students from the Philadelphia region. Kline & Specter attorney Priscilla Jimenez, who is the incoming president of the Hispanic Bar Association of Pennsylvania, announced the event held at the National Society of Colonial Dames in Center City. Pennsylvania Secretary of Education Pedro Rivera gave welcoming remarks and Alba E. Martinez, Esq., principal of the Retail Investor Group at Vanguard, gave the keynote address. Arlene Finkelstein, Esq., executive director of the Toll Public Interest Center at Penn Law School, was the official honoree. The Hispanic Bar Association of the Pennsylvania Legal Education Fund is a non-profit organization dedicated to the professional and educational advancement of Hispanics in the legal profession.
Website wins award
The new Kline & Specter website, launched last April, has won a design and development award from the Academy of Interactive and Visual Arts (AIVA). The award for creative excellence, known as a W³ Award, was given in the category for General Website – Law and Legal Services. This was the first year the award competition was open to all agencies, regardless of size and scope of services. AIVA is composed of top professionals from media, interactive, advertising, and marketing firms and includes executives from organizations such as AgencyNet, AvatarLabs, Conde Nast, Disney, The Ellen Degeneres Show, Fry Hammond Barr, Microsoft, MTV Networks, Polo Ralph Lauren, Sotheby's Institute of Art, Wired and Yahoo! The Kline & Specter website was designed for the firm by Page 1 Solutions of Golden, Colorado.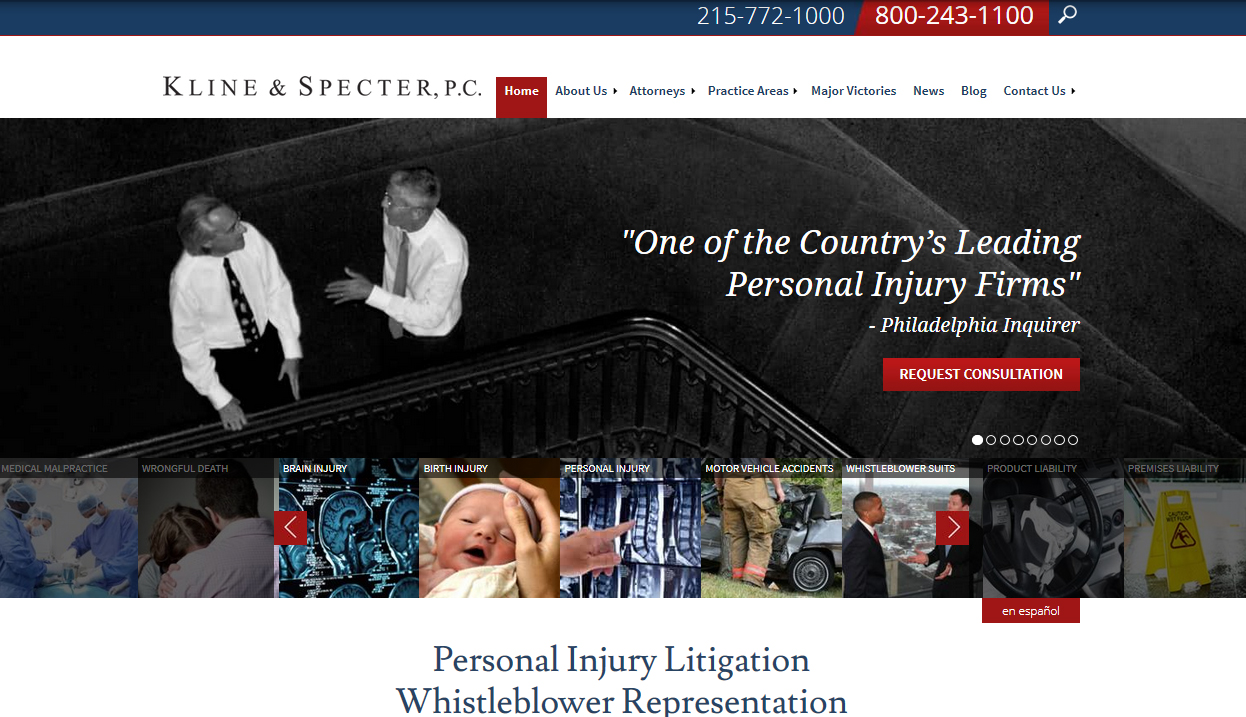 Join Us on Social Media

Follow us on Facebook, Twitter, Google+ or go to www.klinespecter.com and "like" us, tweet our pages or "share" on Google+

Like us – Review us with 5 Stars …

---

Get Our Eletter

If you know someone who would want to receive our Eletter, simply forward this email and they can click here to complete the E-letter form.

---
| | |
| --- | --- |
| Copyright©2004-2015 Kline & Specter. All rights reserved. | Email Us: [email protected] | Toll Free: 1-800-597-9585 |