Kline again No. 1 in PA, firm has nine Super Lawyers
For the eighth straight year, Tom Kline in 2011 was chosen as  Pennsylvania's No. 1 attorney by the independent rating service Super Lawyers, while Shanin Specter was selected among the state's Top 10 for the sixth consecutive year. Kline's unbroken string as the Pennsylvania Top Point Getter is a first for any attorney in any state. Also selected as Pennsylvania Superlawyers were Lee B. Balefsky, Charles L. Becker, David J. Caputo, Andrew J. Stern, Michelle L. Tiger, Andrew S. Youman and Gary Zakeosian. The selections were the seventh in a row for Stern and eighth for Balefsky. Kline & Specter attorneys also were named as Pennsylvania Rising Stars, designating them as among the top 2.5 percent of attorneys in the state who are 40 or younger. They are Kila B. Baldwin, Lisa S. Dagostino, Dominic C. Guerrini, David K. Inscho and Regan S. Safier.  Super Lawyers rates lawyers in more than 70 practice areas who "have attained a high degree of peer recognition and professional achievement." The multi-phase selection process includes independent research, peer nominations and peer evaluations in voting across the state, followed by a Blue Ribbon Panel review.

Therapist sex case settled,
public apology made
Tom Kline and David Inscho obtained a settlement against an unlicensed psychotherapist who had sex with a teenage patient. The agreement came following jury selection with a monetary sum but also a mandated public admission and apology in open court by the therapist, Andrew J. Smith, of Allentown. "I took advantage of a vulnerable mentally ill teenage girl who I had been entrusted to help," The Allentown Morning Call reported Smith saying through tears as the victim, now 23, and her family listened intently. Smith began seeing the patient when she was 13 and initiated a sexual relationship with her several years later. Smith had worked in several Lehigh Valley practices for 15 years. Two of his former employers agreed to pay at least $1.8 million as part of the settlement but the actual payment could reach $3.8 million depending on further litigation with insurance companies representing Smith and psychologists who employed him. (Read more about the case) 
Kline & Specter on TV
Tom Kline did two appearances on Fox TV's Good Day Philadelphia program. One involved the city's DROP pension program and the other concerned the death of a student following a cosmetic silicone injection. Both interviews were conducted outdoors in the chilly, early morning hours, one on Sansom Street in Center City and the other on the Art Museum steps. Click to watch the TV clips. (View DROP clip / View silicone clip)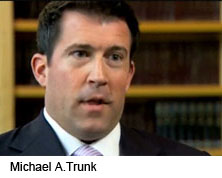 Michael A. Trunk was interviewed by ABC's Nightline as part of a story about problems with public housing across the country. Trunk spoke about the case of Ebony Gage who suffered brain damage when mold in her public housing apartment triggered an asthma attack. That case, against the Philadelphia Housing Authority, settled for $9.8 million. View TV clip.
Get Our Eletter
If you know someone who would want to receive our Eletter, simply forward this email and they can click here to complete the E-letter form.
Smerconish joins Kline & Specter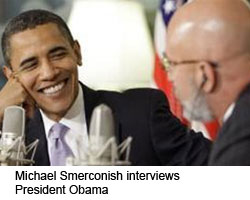 Michael Smerconish, author, columnist and nationally syndicated radio host, has joined Kline & Specter as of counsel attorney. Smerconish was previously of counsel at The Beasley Firm and had practiced law for 10 years at the firm before embarking on his radio career. As a trial lawyer, Smerconish focused on a vast array of litigation, including contracts, medical malpractice and product liability cases. Smerconish in recent years has become celebrated for his media endeavors, particularly The "Michael Smerconish Program," the popular afternoon program aired on 1210 AM locally and in 70 markets throughout the United States. Smerconish also appears regularly on television and is a contributor for MSNBC. He has appeared on and guest hosted Hardball with Chris Matthews and has been a guest on NBC's Today Show, Colbert Report, O'Reilly Factor, Larry King Live, The View, and Real Time With Bill Maher. Smerconish writes a column in the Sunday Philadelphia Inquirer and is a contributor to TheDailyBeast.com. He has written five books, two of which were New York Times best sellers. Visit his website.
Largest-ever verdict in Erie County
In April, Shanin Specter, Robert Englert, Lisa Dagostino and Mark Polin won a $21.6 million verdict against Hamot Medical Center in Erie, Pa., in the Graham case.  Kline & Specter proved that Hamot's nurses failed to alert the obstetrician of variable decelerations in a twin birth, leading to a delay in childbirth and severe brain damage in Ja'Kareon Graham. The verdict was reported in the news media to be the largest personal injury verdict in the history of Erie County. The trial lasted more than a week and deliberations nearly four hours before the 12-member jury handed down its unanimous verdict. The verdict included $19.6 million to provide for future medical expenses for Ja'Kareon Graham, now four years old, in annual installments through 2081.
Inscho-led mock trial team wins regional trophy

A mock trial team from Drexel University Law School won one of two regional Championship trophies in the National Trial Competition, considered the toughest and most prestigious in the country. The winning team members were Michael Benz and Margaret Wheltle. David Inscho, of Kline & Specter, was co-coach of the team, which entered the national contest for only its second time. The team advanced to the national finals scheduled for Houston.  Inscho, who graduated magna cum laude from the Temple University Beasley School of Law, was a member of that school's renowned mock trial team, which in 2001 won first place in the NACDL National Championship Mock Trial Tournament. Inscho was selected as the best overall advocate in that competition.