Toyota Recall Lawsuits
Pennsylvania - New Jersey - Delaware - New York - Nationwide
Toyota recalled millions of cars and temporarily halted sales and production because of sticking gas pedals that caused sudden accelerations and resulted in hundreds of accidents and a number of injuries and deaths.
At least 34 deaths and many more injuries have been reported because of unintended acceleration of Toyota vehicles, with many lawsuits filed against the automaker. Kline & Specter, P.C., currently is handling Totyota injury cases.
If you or a loved one suffered serious injury or death in an accident involving sudden acceleration of a Toyota or Lexus vehicle, you should contact a Toyota accident attorney immediately.
Toyota's recall for accelerator problems involved various models, including: 2007-10 Camry, 2009-10 RAV4, 2009-10 Corolla, 2009-10 Matrix, 2005-10 Avalon, 2010 Highlander, 2007-10 Tundra, 2008-10 Sequoia. An earlier recall also involved Lexus models. Also, more than 1,000 complaints have been filed concerning a braking problem in Toyota Prius models.
Toyota issued more than 13 million recalls since September 2009 for a number of product problems. One recall followed complaints to federal regulators and reports of a dozen deaths, prompting the Japanese automaker to recall 2.3 million autos because of problems with accelerator pedals getting stuck in the down position.
Toyota recalled 4.2 million Toyota and Lexus models after it said floor mats were causing gas pedals to get stuck. The Los Angeles Times reported that Toyota-made cars and trucks had claimed 19 lives since the 2002 model year, more than all other manufacturers combined. But even more reports of falatities have surfaced since that time.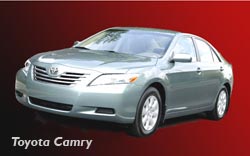 Kline & Specter, with some 30 attorneys, is one of the nation's top law firms in litigating product liability cases, particularly those involving automobiles. The firm has won large verdicts and settlements in automobile injury cases involving defective vehicles, including a $153 million verdict against the Ford Motor Co. (See Major Victories)
Contact a Toyota accident lawyer today.
Motorists experiencing accelerator pedal sticking were advised to take the following steps: If the accelerator pedal sticks in a partially open throttle position or returns slowly to idle position, the vehicle can be controlled with firm and steady application of the brakes. Don't pump the brakes because it could deplete the vacuum assist. That would make it even harder to depress the brake pedal. The brakes will stop the vehicle no matter the throttle position. When under control, the vehicle should be driven to the nearest safe location and the engine should be turned off. Contact a Toyota dealer as soon as possible for assistance.
---
Kline & Specter handles cases in Pennsylvania, New Jersey and New York and Nationwide, working with local attorneys in states outside PA, NJ and NY.
In Pennsylvania, Kline & Specter handles cases in and around: Allentown, Altoona, Bethlehem, Chester, Doylestown, Drexel Hill, Easton, Erie, Greensburg, Harrisburg, Hazleton, Johnstown, Lancaster, Levittown, McCandless, McKeesport, Monroeville, Norristown, Philadelphia, Pittsburgh, Pottstown, Radnor, Reading, Scranton, State College, West Chester, Wilkes-Barre, Williamsport and York.
In New Jersey, the firm handles cases in and around: Atlantic City, Bayonne, Brick Township, Camden, Cherry Hill, Clifton, Edison, Elizabeth, Fort Lee, Jersey City, Lakewood, Millville, Newark, New Brunswick, Paterson, Pennsauken, Plainfield, Toms River, Trenton, Union, Vineland, Voorhees and Willingboro.
News
A newspaper's review of Toyota Motor Corp. found a history of stalled recalls and hidden safety problems. The automaker's handling of safety issues has come under scrutiny recently due to sudden acceleration allegations in Toyota and Lexus vehicles, which were involved in auto accidents causing 19 fatalities, more than all other automakers combined. After Toyota announced its biggest-ever recall last fall to address the problem, it insisted publicly that no defect existed, drawing a rare public rebuke from the National Highway Traffic Safety Administration (Full story).
Toyota recalls 2.3 million vehicles to fix accelerator pedals that could stick in the down position. More than 100 complaints filed so far in the United States and at least a dozen deaths.