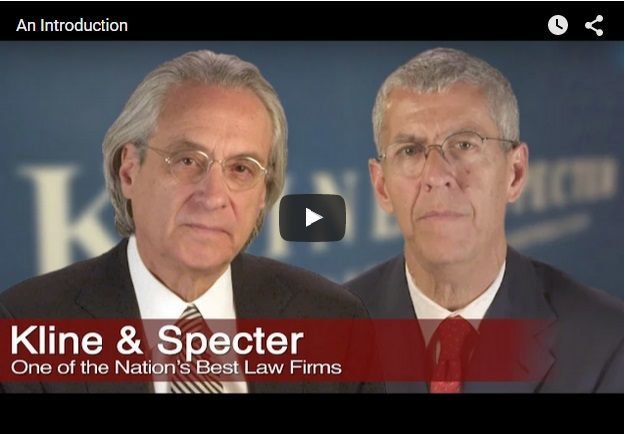 Kline & Specter, PC, is a preeminent law firm in the United States concentrating in catastrophic injury cases, medical malpractice litigation and whistleblower representation.
The firm has achieved more verdicts and settlements in excess of $10 million than any law firm in Pennsylvania (read the analysis). It holds impressive records in Pennsylvania, including the largest verdict in a contested liability case — $109 million verdict and subsequent $105 million settlement. The recent $95.6 million award for a building collapse victim is the largest personal injury recovery for one person. Kline & Specter obtained more eight-figure verdicts in 2017 than any other law firm in Pennsylvania.
Kline & Specter is headed by attorneys Tom Kline and Shanin Specter, both named among the top ten lawyers in Pennsylvania by Super Lawyers, among the best lawyers in America by several other independent surveys and elected as members of the Inner Circle of Advocates, a select group of 100 of the nation's most celebrated trial lawyers. Both are recipients of the Philadelphia Trial Lawyers Association's prestigious Justice Michael A. Musmanno Award.
The firm has won acclaim across the country, including:
Cited as "one of the country's leading personal injury firms," Philadelphia Inquirer
Called "the most powerful plaintiffs firm in the city," Philadelphia Business Journal
Referred to as "a powerhouse law firm," The New York Times
Chosen by The National Law Journal for America's Elite Trial Lawyers, one of only 50 firms chosen.
Selected by Super Lawyers among 50 firms in the United States for its excellence in litigation award.
Named among the nation's Best Law Firms by U.S. News Media Group and Best Lawyers.
Winner of The Legal Intelligencer's "Litigation Department of the Year" Award for Medical Malpractice and Product Liability/Mass Torts (2018)
The law firm, with more than 40 attorneys, five of whom are also highly skilled doctors, has unparalleled expertise and unsurpassed success in medical malpractice litigation. Year after year, Kline & Specter has had the most medical malpractice verdicts and settlements of any Pennsylvania firm. No law firm in the United States has as many M.D.-J.Ds.
Read More >