Civil Rights Attorneys
Pennsylvania - New Jersey - Delaware - New York - Nationwide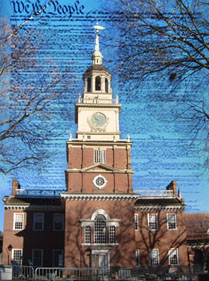 Cases taken on by Kline & Specter occasionally transcend typical liability issues. In some instances, clients have suffered – along with their physical injuries – a violation of their civil rights, namely their right to be free from harm.
In these cases, Kline & Specter has obtained not only redress for its clients but also important societal changes to protect the safety of citizens.
In 1999, Shanin Specter sued the City of Philadelphia after LeeMore Rich and his infant son were killed by a speeding police car as they stood on a street corner. The civil rights claim allowed Specter to circumvent the city's sovereign immunity – which set a $250,000 cap on lawsuits. He settled the case for $2.5 million for Rich's estate and his surviving five-year-old daughter. (See Gillyard/Rich)
But Specter did not stop there. In researching the case, Specter discovered many smaller settlements paid by the city to victims of similar accidents. He also found that over roughly a four-year period city police vehicles had been involved in 3,800 collisions, most of them avoidable. Specter's persistence in negotiations with the Philadelphia Police Department resulted in a pledge from then-Police Commissioner John Timoney to institute a series of reforms to improve police driver training, deter reckless driving and heighten safety.
Later in the same year, Tom Kline also filed a civil rights claim in the highly publicized Hall v. SEPTA case in which a young boy's foot was severed in a subway escalator. SEPTA, as a government-related agency, also enjoyed sovereign immunity and a $250,000 limit on lawsuits against it. Kline alleged that the transit agency had deprived Shareif Hall of his civil right to personal safety.
The case resulted in a $51 million jury verdict and a $1 million fine imposed by the presiding judge against SEPTA. The fine was later reduced to $100,000 after SEPTA agreed to inspect and repair escalators that were found to be dilapidated throughout the system. The escalator on which Shareif was injured was replaced with a new one.
Kline, along with attorney Dominic Guerrini, also represented the family of a Cherry Hill man killed in Camden County Jail by another inmate. The federal suit charged county correctional officials with "reckless and deliberate indifference" in the death of Joel Seidel, an older man who was beaten to death by a much younger and stronger prisoner with a history of violent assaults. The Seidel Case settled for $4 million, one of the largest-ever settlements in a case of its kind.
The civil rights lawsuit claims that Seidel was denied his constitutional rights to medical care, due process and to be free from cruel and unusual punishment. The suit cites overcrowding at the prison in general and the failure to move Seidel to a hospital, psychiatric facility or his own cell and failure to provide adequate observation. Among the defendants are the Camden County Jail, Camden County Department of Corrections and Prison Health Services Inc. and Steininger Behavioral Care Services, both of which had contracts to provide services to inmates.
The firm handles cases in Pennsylvania, New Jersey and New York. For cases outside those states, Kline & Specter works with local attorneys in each state as applicable.
Click here to contact a civil rights attorney.
---
Kline & Specter handles cases in Pennsylvania, New Jersey and New York and Nationwide, working with local attorneys in states outside PA, NJ and NY.
Civil Rights Cases
Click on the links below to learn more about some of Kline & Specter's Civil Rights cases.
THE FOSTER CASE
Man suffers brain injury in prison suicide try
Suit settled with police assigned to misdemeanor suspect
THE LEACH CASE
Philly teenager killed at treatment center
Kline & Specter settles suit for $10.5 million in Tennessee case
THE MAGDITCH/CAMPBELL CASES
Two inmates die in Lehigh County Prison
Kline & Specter files wrongful death lawsuits
THE SEIDEL CASE
Man fatally beaten in Camden prison cell
Suit settled in case of older man placed in cell with violent inmate
THE GILLYARD/RICH CASE
Man, child killed by speeding Philadelphia police car
City paid $2.5 million, agreed to tighten police driving rules
THE POLICE SEXUAL ASSAULT CASE
Officers were convicted of sex crimes
More women claim they were victims, dancer files lawsuit
THE HALL V. SEPTA CASE
Tot's foot torn off in subway escalator
A jury awarded $51 million, judge also fined SEPTA
Click here to contact a civil rights lawyer.