Abogados en Accidentes Laborales
Pennsylvania - New Jersey - New York - Nationwide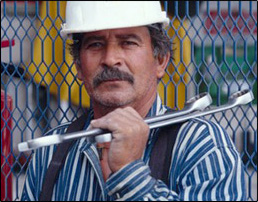 Los accidentes pueden ocurrir y ocurren en los centros de trabajo. Cada año, miles de trabajadores se lastiman seriamente y mueren en percances o accidentes en minas, fábricas, operaciones de agricultura, lugares de construcción y otros diversos lugares de trabajo.
Entre las causas más serias de accidentes de trabajo se encuentran aquellos accidentes que involucran objetos que se caen, trabajadores que se caen de equipos elevados o estructuras, accidentes de carretera y aquellos en los que están involucrados carros, camiones, carretillas elevadoras, maquinaria de fábricas y otros equipos.
Se incluyen otras causas tales como descargas eléctricas, envenenamiento por dióxido de carbono y en excavaciones.
Más de tres millones de accidentes de trabajo que ocurren cada año son tan serios que requieren tratamiento médico en hospitales, de acuerdo con el Centro de Control y Prevención de Enfermedades. Solamente en un año, el 2004, la agencia registró 5,703 muertes atribuidas a accidentes laborales.
Kline & Specter, P.C., abogados han representado clientes quienes han sufrido fuertes accidentes laborales en Pennsylvania, New Jersey y Delaware. Si usted o alguien que usted conoce ha sufrido algún daño laboral grave relacionado a un accidente de trabajo, tal vez quiera una evaluación de su caso contactar un abogado de Accidentes Laborales sin costo alguno.
Kline & Specter, una firma de abogados en Philadelphia, también ofrece un folleto gratis titulado Injured At Work – A Guide To Your Rights, la cual provee información básica sobre lo que se debe hacer si se ha sufrido un accidente laboral así como una guía de información acerca de la serie de beneficios disponibles si se han sufrido daños en el trabajo. (Reciba este folleto gratis en free booklet.)
Daños en el Trabajo – Una Guía Para Sus Derechos
Si usted o alguien a quien usted conoce ha sufrido graves daños en un accidente de trabajo, tal vez usted quiera contactar un centro de abogados especializados en accidentes laborales contactar un abogado de Accidentes Laborales para recibir una evaluación de su caso sin costo.
Los accidentes laborales van desde fracturas en extremidades hasta aquellos más severos como daños cerebrales o de la espina dorsal, incluso la muerte. Entre las victorias legales de Kline & Specter a favor de hombres y mujeres trabajadores se cuenta con muchos acuerdos y veredictos legales espectaculares. Estos son:
La firma también ha ganado otros dos importantes casos para herreros. En noviembre de 2006, un jurado otorgó $3 millones a favor de un herrero quien sufrió daños en cuello y hombro como resultado de una caída en el hueco de la escalera después de una falla temporal en el sistema de iluminación en el sitio de construcción. (Ver McCormick 1 | 2) En diciembre de 2006, Kline & Specter negociaron otro acuerdo por $1.7 millones para un herrero de Lehigh County quien resultó severamente lastimado al derrumbarse la bodega donde se encontraba trabajando. (Broadbent)
En un caso anterior, la familia de un hombre que falleció aplastado por una pluma hidráulica levantó una demanda contra la compañía manufacturera, vendedora e instaladora del sistema de control de la pluma. El convenio al que se llegó en noviembre de 2002, fue por $4.4 millones (Yankosky)
Entre las primeras victorias de casos de accidentes laborales de Kline & Specter como firma aseguró varios acuerdos por un total de $1.25 millones en 1995 para Demetrius Atwood, un empleado de hotel quien salió lastimado a causa del mal funcionamiento de un elevador.
Presione aquí contactar un abogado de Accidentes Laborales para una evaluación sin costo de su caso.
Para los resultados de otros litigios de Kline & Specter, presione aquí para ver nuestra lista de grandes triunfos Grandes Victorias.
Presione aquí para ver una enrevista de Tom Kline interviewed about "cancer clusters" en Good Day Philadelphia en Fox TV, 3/8/07
Resources
CDC Census of Fatal Occupational Injuries Summary, 2004
News
Tres inmigrantes ilegales que resultaron heridos en accidentes de construcción en Nueva York recibieron una compensación total de $3.85 millones en las últimas dos semanas como resultado de un acuerdo, anunciaron los abogados. (leer)
A Tennessee jury returns a $3.8 million judgment against a contracting firm following a steelworker's construction injury. The man was working on the top level of a hotel that was under construction by standing on a platform being supported by a temporary beam. An employee of the contracting firm removed the support beam and the steelworker fell 26 feet onto concrete, crushing his pelvis, knee and face. The man suffers from permanent, painful injuries. (Full story)
A judge in Pennsylvania signs off on $685,000 settlement in a workplace injury lawsuit over serious spinal cord injuries. The worker was loading a truck with the pipe but the material had been covered with snow and ice, resulting in the worker slipping and falling. The spinal cord injury caused nervous system problems, broken ribs and vertebrae, traumatic, psychological and neurological injuries. (Full story)
Couple wins verdict of nearly $3 million in husband's workplace injury suit against Bobcat Co. The man sustained severe and permanent injuries after being hit by a backhoe boom when the machine's operator inadvertently pushed the hydraulic control.(Full story)
Study shows that people who work with formaldehyde – such as beauticians, pharmacists, morticians, chemists, lab technicians, doctors and photographers – are at greater risk for developing amyotrophic lateral sclerosis (ALS), also known as Lou Gehrig's disease.
A New York man who was injured in a construction site accident settles for $3 million. The man sustained multiple pelvis and hip fractures when a pipe connection separated and the pipe exploded.(Full story)
Jury awards a woman working as a highway construction flagger $14.6 million after an accident that caused the amputation of one of her legs. The workplace injury case occurred when the woman was run over by a concrete cutter with an inoperable emergency stop button.
Jury awards $1.2 million in damages to an injured BNSF Railway worker in workplace injury case.
PA Supreme Court denies further hearing on Penelec utility company's appeal of $3.5 million award for a man who was shocked by a Penelec wire in workplace injury case.(Full story)
Jury awards wife $2 million in compensatory damages and $1 million in punitive damages in a workplace injury case in which her husband was trapped and suffocated inside a machine he was paid to run.
Across the United States, construction ranks as the most dangerous industry, representing about 20 percent of all workplace-related fatalities, according to federal statistics.(Full story)
As a group, Latino construction workers are more likely than any others to experience workplace injuries, including fatalities, according to US labor statistics.(Full story)
Federal jury orders Lincoln Electric Holdings and four other companies to pay $17.5 million to a welder who claims he got sick from the fumes he inhaled in workplace injury case. (Full story)
More than half of New Jersey's hospital nurses suffered workplace injuries from lifting or moving patients and nearly two-thirds say they were exposed to so-called "superbugs" like MRSA.(Full story)
An estimated 4 million U.S. workers will suffer a workplace injury or illness in 2007.(Full story)
Exposure to hazardous fumes and aerosolized heavy metals may put welders at risk of losing olfactory abilities, researchers here said.
Number of workers killed on the job in PA increases 7 percent in 2006 to 240, the highest since 1997 when 259 work-related fatalities were reported, according to the U.S. Bureau of Labor Statistics.(Full story)
Vermont Superior Court will hold a new trial to consider damages for pain and suffering that a Central Vermont Public Service employee experienced six years ago as a result of serious spinal injuries from workplace injury. The court erred when it awarded her "zero damages" for pain and suffering and loss of enjoyment of life, the high court has ruled.(Full story)
Nurses at Brockton Hospital are being punched, slapped, bitten and scratched by patients, according to federal workplace inspection report.
Iron worker seriously hurt by a 1 1/2-ton slab of fiberglass that plummeted from the Whitestone Bridge in the Bronx receives a $15 million settlement.(Full story)
Bronchiolitis obliterans -- called "popcorn lung" when it affects workers making butter flavoring for microwave popcorn -- has been identified in other sectors of the flavoring industry.
Construction and Other Workplace Injury Cases
Click on the links below to learn more about some of Kline & Specter's construction and workplace injury cases.
THE ATWOOD CASE
Employee hurt in elevator at city hotel
Jury handed down verdict against elevator maker
THE DAVIS/MOTIVA CASE
Worker dies in oil refinery explosion
Probe revealed hazards, record $36.4M settlement reached
THE DRUM CASE
Worker hurt in fall from fork-lift
A jury in Pittsburgh awarded $7.9 million
THE LEPERA CASE
Worker hurt by concrete spill
Construction injury nets worker $2 million
THE MCMANAMON CASE
Woman hurt at roadside construction job
Mother of three struck by van awarded $19.1M
THE VASSILLO CASE
Bricklayer injures neck in fall
Philadelphia jury awards $6.5 million
THE YANKOSKY CASE
Man is crushed in crane mishap
Case settled for $4.4 million over faulty controls