Defective Brakes Attorney
Pennsylvania - New Jersey - Delaware - New York - Nationwide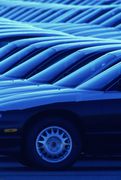 Cars and trucks often contain manufacturing defects that result in necessary repairs, recalls and, in some instances, serious injuries to drivers or auto occupants.
Among these problems have been defective parking brakes. In one Pennsylvania case, a baby was run over by a Ford pickup truck after the parking brake failed and the vehicle rolled over the infant's head. In another case, this one in Nevada, a three-year-old boy was killed when the parking brake of another Ford pickup suddenly disengaged and the vehicle rolled down a sloped driveway.
Both cases were litigated by Kline & Specter, P.C.. The first resulted in a substantial settlement (see the Bobb case), while the second, a celebrated case titled White v. Ford, went to trial and resulted in an initial verdict of $152 million against Ford Motor Co.
Shanin Specter was the lead attorney in the White case, which was tried in Reno, Nev. When punitive damages in that case were reversed on appeal, Specter returned west and tried the case for a second time, this time winning again and obtaining a $52 million punitive damages award.
If you or someone you know was seriously hurt or killed because of an accident caused by a suspected defective parking brake, you may want to contact a defective brake attorney for a free evaluation of your case.
A number of parking brake problems have cropped up over the years in a variety of cars and trucks.
A national class action was filed in 2005 against General Motors by owners of certain GM vehicles whose owners had to pay about $500 apiece to replace parking brakes, also known as emergency brakes.
A year earlier, Hyundai Motor Co. was told to recall certain minivans because of defective parking brake cables in Trajet XG models built between 1999 and January 2004.
Some parking brake problems may have never come to light, cases may have been settled and still others might only be being discovered now.
Kline & Specter, P.C., with some 30 attorneys, several of whom are also doctors, has experience and expertise in defective parking brake lawsuits. Contact a defective parking brake lawyer today.
---
Kline & Specter handles cases in Pennsylvania, New Jersey and New York and Nationwide, working with local attorneys in states outside PA, NJ and NY.
In Pennsylvania, Kline & Specter handles cases in and around: Allentown, Altoona, Bethlehem, Chester, Doylestown, Drexel Hill, Easton, Erie, Greensburg, Harrisburg, Hazleton, Johnstown, Lancaster, Levittown, McCandless, McKeesport, Monroeville, Norristown, Philadelphia, Pittsburgh, Pottstown, Radnor, Reading, Scranton, State College, West Chester, Wilkes-Barre, Williamsport and York.
In New Jersey, the firm handles cases in and around: Atlantic City, Bayonne, Brick Township, Camden, Cherry Hill, Clifton, Edison, Elizabeth, Fort Lee, Jersey City, Lakewood, Millville, Newark, New Brunswick, Paterson, Pennsauken, Plainfield, Toms River, Trenton, Union, Vineland, Voorhees and Willingboro.