Charles Becker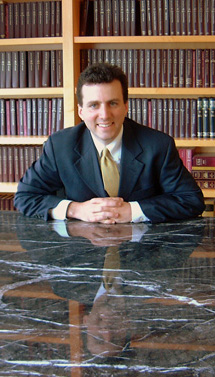 Charles L. Becker is a partner and appellate lawyer at Kline & Specter. He received his B.A. from Williams College and his J.D. from Yale Law School. After law school, he served as a law clerk for the Honorable Sandra L. Lynch of the U.S. Court of Appeals for the First Circuit in Boston, Massachusetts.
Becker's first job as a practicing lawyer was with Kline & Specter, which he joined in 1998. He left the firm in 1999 when he moved for four years to North Carolina and Womble Carlyle Sandridge and Rice, where he worked in the litigation department handling a variety of product liability and commercial matters. In 2003, he returned to Philadelphia and joined Reed Smith, LLP, where he became a partner in the Appellate Practice Group in 2006. Becker returned to Kline & Specter in 2007 to head the firm's appellate and legal issues practice.
In his role as appellate counsel at Kline & Specter, Becker has primary responsibility for presenting written and oral argument in both state and federal appellate courts. He also consults with Kline & Specter's trial lawyers on substantive and procedural issues to help shape litigation strategy and trial presentation, to make the best record possible for an eventual appeal, and to facilitate case resolution. These consultations include working on jurisdictional and venue issues; briefing and arguing dispositive motions, expert motions, and in limine motions; pursuing or seeking to defeat interlocutory appeals; and preparing or defending post-trial motions. Becker has participated in litigation in the Pennsylvania, New Jersey, and North Carolina state courts, in the United States Courts of Appeals for the Third and Fourth Circuits, and in the United States Supreme Court.
Becker has been active with numerous professional organizations. He serves on the Pennsylvania Supreme Court's Appellate Courts Procedural Rules Committee, which advises the Supreme Court on the promulgation and revision of appellate rules. He serves as a governor of the Third Circuit Bar Association and as secretary of the Third Circuit Historical Society. He was appointed by the Third Circuit Judicial Counsel to serve on the Merit Selection Commission for the appointment of a new bankruptcy judge. He served as chair of the Appellate Courts Committee of the Philadelphia Bar Association from 2004 through 2007 and remains a member of that committee. He is a member of the American Law Institute, publisher of the Restatements of the Law and dedicated to producing scholarship that clarifies, modernizes and improves the law. He is secretary of the Yale Law School Association, the school's alumni organization. He is also a member of the Philadelphia Trial Lawyers Association, the Pennsylvania Association for Justice, and the American Association for Justice.
In addition, Becker has taught on appellate practice and various substantive matters. He is a lecturer in appellate advocacy at the University of Pennsylvania Law School. He has served as faculty in numerous continuing legal education classes. He also authored the chapter on Motion Practice in the Pennsylvania Bar Institute's Third Circuit Appellate Practice Manual.
In 2013, Becker was named by an independent peer-review rating service as among the Best Lawyers in America. He also was selected among the best attorneys in Pennsylvania by Super Lawyers in 2011, 2012 and 2013 and had previously been chosen by that independent rating service as a "Rising Star," considered among the best 2.5 percent of attorneys in the state 40 or younger. Becker was named a "Lawyer on the Fast Track" by American Lawyer Media.
To contact Charles Becker, email him at