David Inscho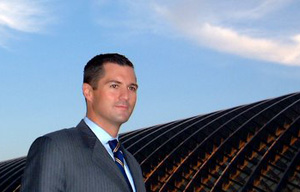 Photo: David Inscho in front of The Kimmel Center
David K. Inscho worked on a wide array of legal matters – from media law to commercial disputes, from construction cases to product liability – at one of Philadelphia's largest law firms before joining Kline & Specter in 2006.
He was chosen from among thousands of attorneys as a
Pennsylvania Super Lawyer — Rising Star
(2007-2013), which placed him in the top 2.5 percent of attorneys in the state who are 40 or younger.
Inscho had a distinguished academic career that included top honors in a number of areas, including an award for his oratory skills as a member of the national champion Temple University mock trial team. And he achieved the highest score on the July 2002 Pennsylvania bar exam, an exam taken by 1,957 law school graduates across the state.
In his most recent case, Inscho was co-counsel with Tom Kline in 2011 in winning a $1.8 million settlement in a case against a psychotherapist who had sexual contact with a teenage patient. The settlement included a tearful public admission and apology from the therapist in open court. (See The Thatcher Case)
In 2010, Inscho also worked with Kline in obtaining a $10.5 million settlement of a federal lawsuit in the case of a Philadelphia teenager who was strangled after being placed in a restraint hold at a Tennessee treatment center. (See Leach)
Inscho was co-counsel in a 2009 case that resulted in a $3.2 million settlement for the widower of a Wayne County woman who was killed when her car struck a piece of farming equipment that broke loose from an oncoming truck. The settlement was believed to be the largest on record in the rural northeastern Pennsylvania county. (See Curtis)
Before joining Kline & Specter, Inscho was an associate at the Dechert Law Firm, where he handled multiple proceedings such as arbitrations, municipal court hearings, discovery motions and court conferences in a range of legal cases.
He worked with all phases of trial preparation, including witness examinations, drafting expert reports and taking witness depositions. In one important case, a construction case involving a large-scale environmental remediation project, he was solely responsible for all aspects of the litigation.
Prior to joining Dechert, he worked for two years as a law clerk for U.S. District Judge Clarence C. Newcomer, a celebrated jurist who sat on the federal bench for more than three decades in the Eastern District of Pennsylvania.
Inscho, a runner who has completed the Chicago and Big Sur marathons, graduated magna cum laude from the Temple University Beasley School of Law, where he was the recipient of the West Publishing Award given to the top five students in the graduating class. He worked as a research assistant for Professor William Woodward Jr. while at Temple Law.
Inscho also was a member of the law school's renowned mock trial team, which competes in different cities throughout the country. His team won first place in the National Championship Mock Trial Tournament sponsored by the National Association of Criminal Defense Lawyers, a contest in which Inscho was chosen as the Cathy Bennett Award winner for best overall advocate. In later years, Inscho went on to coach mock trial tams at the Drexel University Law School, where in 2011 his team won a Regional Championship trophy in the National Trial Competition, considered the toughest and most prestigious in the country.
While a student at Temple, Inscho also won the TASLA award given to the top student in the field of evidence and further recognition for Outstanding Oral Advocacy in Legal Research Writing in both the criminal and civil fields. He was the Note and Comment editor of the Temple Law Review and a member of the Justinian Society, the Italian-American law society.
Inscho earned his undergraduate degree, a bachelor's in government and economics, at Franklin and Marshall College, where he won recognition as a Presidential Scholar and was awarded the Lanious B. Keiper Award for academic achievement. At F & M he also served as treasurer and rush chairman of Delta Sigma Phi fraternity.
Inscho is admitted to practice in Pennsylvania, New Jersey and before the federal court for the Eastern District of Pennsylvania and the District of New Jersey.
He is a member of the Philadelphia Trial Lawyers Association, the Pennsylvania Association for Justice, the Pennsylvania Bar Association and the American Bar Association.