Kristen Loerch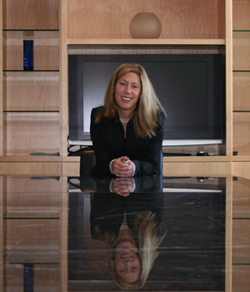 Kristen J. Loerch spent most of her legal career as defense counsel in medical malpractice cases, defending hundreds of doctors, nurses and hospitals. Now, armed with important knowledge and experience, she represents people who were seriously injured as the result of medical error.
"Helping those in need was much of what drew me to Kline & Specter," says Loerch, who joined the firm in 2009. In her years of civil defense work, Loerch worked on many medical malpractice cases and was co-counsel in some 20 trials.
Immediately before joining Kline & Specter, Loerch worked at the Berwyn-based firm of Post & Post, LLP. She served previously at the Philadelphia firms of Cohen, Placitella & Roth, P.C. and White and Williams, LLP. Before that, from 1997-2002, she worked with three Florida law firms on a range of cases, including medical malpractice, civil rights and nursing home litigation.
Loerch's first job after graduating from Temple University School of Law was as a prosecutor, serving as assistant state attorney in Seminole County, Florida.
While in law school, she distinguished herself as a member of the Temple Trial Team. She was recognized for excellence in trial advocacy by the Temple Law Barristers Society, the Philadelphia Trial Lawyers Association and the Association of Trial Lawyers of America (ATLA). She was a finalist in the 1996 ATLA National Student Trial Advocacy Competition and a winner of various regional and Philadelphia competitions.
Loerch, a native of Buffalo, N.Y., did her undergraduate work at the State University of New York College at Fredonia, where she graduated magna cum laude with a bachelor's degree in political science. She was named the school's Outstanding Graduate for political science and overall academic achievement.
Loerch is licensed to practice law in Pennsylvania and Florida and is admitted to appear before the U.S. Court for the Eastern District of Pennsylvania and the Middle and Southern Districts of Florida as well as the United States Court of Appeals for the Eleventh Circuit. She is a member of the Pennsylvania Association for Justice and the Philadelphia Trial Lawyers Association.
In her free time, Loerch is an avid sailor, participating in one-design races held on the Chesapeake Bay and the Atlantic Ocean against an international field of competitors.