Garabet Zakeosian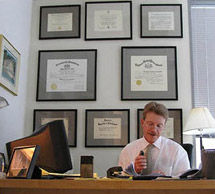 To Garabet "Gary" M. Zakeosian, practicing law is, in his words, "like doing detective work." An experienced anesthesiologist before turning to a legal career, Dr. Zakeosian had the opportunity to participate in a variety of surgeries and gain knowledge that spans a broad spectrum of medical fields and procedures.
One particular expertise: reviewing an injured patient's medical chart and being able to tell what went wrong and how. Since joining Kline & Specter in 1998, Dr. Zakeosian's case analyses have helped lead to legal victories.
One example was the shocking death of Adam Covenko, a 24-year-old former wrestler who checked into the hospital for a routine rhinoplasty two weeks before he was to be married. He wound up dead. The cause turned out to be improper removal of an airway tube resulting in Covenko losing his airway for several minutes. The 2003 case resulted in a substantial settlement.
Another case involved a four-year-old girl who was checked into an emergency room for diabetes testing and treatment but suffered brain damage. Dr. Zakeosian was able to help determine that the little girl had been too heavily sedated during the procedures, causing respiratory depression, and that she had not been properly monitored. The firm won a multi-million dollar settlement.
In yet another case, Dr. Zakeosian helped determine that an anesthesiologist was responsible for a woman suffering a stroke and resulting paralysis after her blood pressure was allowed to drop too low during surgery. At trial, the anesthesiologist broke down during cross-examination and admitted he had provided poor care. A substantial settlement was reached in the case.
Dr. Zakeosian has helped make cases by using his legal skills as well as his medical knowledge. In April 2004, he co-tried a case in federal court in Allentown in which a jury awarded $410,000 for a woman who had to endure a second operation to remove a sponge left in her abdomen during an earlier fertility surgery. The woman suffered a colon disorder as a result of the mishap.
Dr. Zakeosian was also part of the Kline & Specter legal teams that won a $6 million verdict in 2001 from an Indiana County (Pa.) jury in the case of a baby injured during childbirth (see Chichy) and an $18.5 million verdict in 2003 in Philadelphia for a girl whose heart was damaged due to medical error. (Keen)
In May 2010, Dr. Zakeosian was co-counsel in a case that resulted in an $11.7 million settlement for a girl left brain damaged after suffering an asthma attack caused by mold in a government-subsidized house. The Philadelphia Housing Authority, through its insurance carrier, paid the bulk of the settlement in the civil rights case for approving the home and then delaying the family's move to a safe location. (See news coverage.)
In another recent case, Dr. Zakeosian helped win a $7.5 million settlement against La Salle University on behalf of a former football player who suffered profound brain injury after being allowed to play in a game before a prior concussion had fully resolved. (See The Plevretes Case)
In 2011, 2012 and 2013 Dr. Zakeosian was selected as among "The Best Attorneys in Pennsylvania" by Super Lawyers, the independent rating service whose survey of some 40,000 attorneys and expert panel review determines those attorneys who are in the state's top five percent.
Dr. Zakeosian received his undergraduate degree from Franklin & Marshall College, earning a B.A. in physics in 1973. He then attended the Milton S. Hershey College of Medicine of the Pennsylvania State University, graduating with an M.D. in 1977. He completed an internship at the Bryn Mawr Hospital and did residency training in anesthesiology at the Hospital of the University of Pennsylvania. He completed post-residency fellowships in pediatric anesthesia and intensive care medicine and in cardiac anesthesia at Children's Hospital of Philadelphia and the Hospital of the University of Pennsylvania.
Dr. Zakeosian obtained his board certification in anesthesiology in 1981. He has practiced at Bryn Mawr Hospital, Frankford Hospital and Paoli Memorial Hospital. He has extensive experience with pain management and was co-director of the Frankford Hospital Pain Management Clinic.
Dr. Zakeosian started at Kline & Specter while he was still in law school, doing legal and medical research for cases. He joined the firm full-time after earning his J.D. in 2000 from the University of Pennsylvania, where he is pursuing a master's degree in bioethics. In May 2007 he earned an LL.M. in Trial Advocacy from the Temple University Beasley School of Law, winning the Faculty Award for courtroom performance skills. Dr. Zakeosian is a frequent judge/instructor with the Temple LL.M. program.
He is a member of the Pennsylvania Association for Justice and the Philadelphia Trial Lawyers Association. He is also a Fellow of the American College of Legal Medicine.
In addition to his work-related endeavors, Dr. Zakeosian is actively involved in the Philadelphia rowing community as a member of University Barge Club.
To contact Gary Zakeosian, email him at


---
News