Gas/Oil Refinery Explosion Lawyers
Pennsylvania - New Jersey - Delaware - New York - Nationwide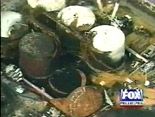 Kline & Specter has litigated a number of highly publicized explosion cases involving both workplace injury and premises liability. Two major incidents resulted in fatalities and, ultimately, eight-figure monetary settlements.
One case involved a year-long investigation by the firm that included the hiring of 14 experts and review of 40,000 documents that resulted in a $36.4 million settlement for the family of a worker killed in an explosion at a Delaware oil refinery. Additionally, Motiva Enterprises later agreed to pay millions in dollars in fines. (See The Motiva Case)
In another case, Kline & Specter won a $40.5 million settlement for the estates of six people who were killed and others who were injured in an explosion and fire at an apartment complex in Montgomery County, Pennsylvania. (See Village Green)
Kline & Specter, with some 30 experienced lawyers, several of whom are also doctors, and a staff exceeding 100, is prepared to quickly respond to disasters such as explosions and fires. Contact an explosion attorney for a free evaluation of a potential explosion lawsuit.
In the Motiva case, Kline & Specter attorneys conducted a lengthy investigation which uncovered what the government did not. uncovering what the government did not – the real cause of the explosion, the cause of their client's death and negligence on the part of the company. The result was what was believed to be the largest-ever settlement for a single worker fatality in the United States.
Jeffrey Davis was killed when the July 2001 explosion, caused by a leaking tanker, catapulted his body into a giant vat of sulfuric acid. Davis was a construction worker who was repairing catwalks on tanks at the refinery in Delaware City, Del.
The settlement came in 2003 and in March 2005, Motiva also agreed to pay a $10 million fine for negligence and environmental damage that resulted from the refinery explosion, which spilled more than a million gallons of acid and petroleum products into the Delaware River. Later, in September 2005, the company agreed to pay an additional $16.2 million to settle a civil suit filed by state and federal regulators.
In the Village Green apartments case, six people died and six were injured in an explosion and fire caused when basement flooding dislodged a clothes dryer and resulted in a gas leak. The incident occurred in June 2001 following heavy rains that had caused flooding in the apartment complex several times before. Three years of investigation by Kline & Specter concluded that the explosion could have been avoided had just a few more bolts been used to properly secure the dryer gas line.
Contact an attorney today for quick action concerning a possible explosion lawsuit.
Click on the following links to learn about other Kline & Specter cases involving Premises Liability and Construction & Workplace Injuries. Also read about our Major Victories.
---
Kline & Specter handles cases in Pennsylvania, New Jersey and New York and Nationwide, working with local attorneys in states outside PA, NJ and NY.
In Pennsylvania, Kline & Specter handles cases in and around: Allentown, Altoona, Bethlehem, Chester, Doylestown, Drexel Hill, Easton, Erie, Greensburg, Harrisburg, Hazleton, Johnstown, Lancaster, Levittown, McCandless, McKeesport, Monroeville, Norristown, Philadelphia, Pittsburgh, Pottstown, Radnor, Reading, Scranton, State College, West Chester, Wilkes-Barre, Williamsport and York.
In New Jersey, the firm handles cases in and around: Atlantic City, Bayonne, Brick Township, Camden, Cherry Hill, Clifton, Edison, Elizabeth, Fort Lee, Jersey City, Lakewood, Millville, Newark, New Brunswick, Paterson, Pennsauken, Plainfield, Toms River, Trenton, Union, Vineland, Voorhees and Willingboro.
Gas/Oil Refinery Explosions News Updates