Stryker Hip Implant Attorneys - Trident Hip Replacement Devices
Pennsylvania - New Jersey - Delaware - New York - Nationwide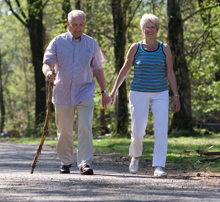 Metal-on-metal hip replacements have been found to shed debris as they wear, causing permanent muscle and tissue damage in some patients.
One popular artificial hip, made by the DePuy division of Johnson & Johnson, was recalled in 2010, but problems with the devices can take years to surface. Also, other types of all-metal hip replacements are still being implanted.
Hundreds of lawsuits have reportedly been filed alleging product defects and a failure to adequately warn patients about the potential risks of failure and metal poisoning.
If you or a loved one suffered a severe injury as a result of a hip replacement, you may want to contact a hip implant attorney. Kline & Specter, P.C., with some 30 attorneys, several of whom are also highly skilled doctors (See the Doctor/Lawyer Team), has the expertise and experience to litigate hip replacement and general product liability lawsuits. (See our Major Victories)
The U.S. Food & Drug Administration received more than 5,000 reports of problems with metal-on-metal hip replacements in the first six months of 2011. The agency had previously ordered studies to determine how frequently the devices were failing.
Some reports pegged the failure rate of the DePuy artificial hip – requiring a second surgery -- at 12 percent (one in eight patients) within five years. Another suggested a 29 percent failure rate after six years of use. Hips made of both metal and plastic generally last 15 years or more.
The New York Times noted in an article in October 2011 that the all-metal (both metal ball and cup) implants shed debris as they wear, causing the body to release scavenger cells to neutralize the debris but also touching off a chain reaction than can destroy tissue and muscle.
About 500,000 patients have received metal-on-metal hips over the last decade, but The Times suggested the number of patients suffering injuries will grow as "tissue destruction is occurring silently in some patients who have no obvious symptoms of pain." Others have reported experiencing pain, rashes and inflammation.
Problems with artificial hips is not a new occurrence. Earlier, problems with Stryker Corp. implants led to a variety of ailments, including discomfort, pain and bone fractures, leading the company to recall some of its products in 2008.
The recall followed a letter by the FDA noting that its inspection of a Stryker plant in New Jersey found that the devices were "adulterated," meaning facilities or controls for their manufacture, packing, storage or installation did not conform with federal regulations. The agency said it had received reports of improper seating of hip implants that resulted in broached and broken bones.
Contact a hip implant lawyer today.