Posted: September 1, 2015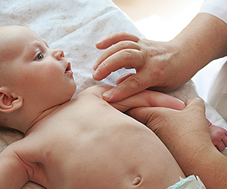 Erb's palsy is a condition caused by nerve damage around the shoulder, or brachial plexus, and usually occurs during a difficult childbirth. These nerves can be injured due to shoulder dystocia (when a baby's shoulder gets caught on mother's pubic bone during delivery), excessive pulling on the head and shoulders, and during a breech birth—also known as a feet first birth.
Although Erb's palsy can be almost immediately apparent following the birthing process, the full extent of the injury may still not be known until a few months later. In the affected arm, babies suffering from Erb's palsy may experience:
numbness, weakness or paralysis
reduced spontaneous movement
impaired circulatory, muscular, and nervous development
a loss of sensory and motor function
a lack of grip strength
slowed development and reduced size
Physical therapy is generally recommended to prevent arm stiffening in babies recovering from Erb's palsy. Gentle massage is typically used in conjunction with range-of-motion therapy—both in therapy sessions and at home—to maintain muscle strength, increase flexibility, and avert joint contraction. Hydrotherapy has also been known to be an effective measure when dealing with Erb's palsy recovery because the reduced gravity environment helps alleviate stress and pain on the musculoskeletal frame. Starting treatment early increases the chances of a full recovery, and it is a good sign if the infant begins to grasp objects or clench fists with the affected arm.
Some parents might consider looking into multidisciplinary treatment centers or a pediatric neurologist. If surgery is recommended, it generally is performed within three to six months after birth unless the doctor recommends otherwise. Examples of surgery for patients with Erb's palsy include nerve graft repairs and nerve decompression. In severe cases, even after surgery the child may experience long- term arm weakness and shoulder rotational difficulties.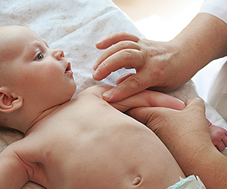 Following surgery, additional physical therapy—and in some cases occupational therapy—is generally recommended by doctors to continue the healing process and help children deal with everyday activities such as eating, tying shoes, playing, and a variety of other activities. If a child still has exacerbating problems after treatment and surgery, joint fusion surgery or a transfer of tendons and muscles to improve arm function may be necessary.
At Kline & Specter, PC, we understand how distressing it can be when medical negligence leads to serious injury of a loved one. With more than 30 lawyers, five of whom are also doctors—including two OB/GYNs—we can help with birth injury cases. Kline & Specter has successfully litigated and is currently handling multiple Erb's palsy cases. Please call our Erb's palsy attorneys at 800-243-1100 to schedule a free consultation.