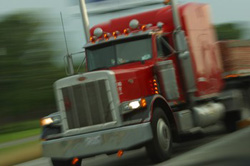 Accidents involving trucks and buses can be devastating, such as the recent crash on the Pennsylvania Turnpike that claimed the lives of five people and injured about 60 others near Mount Pleasant in western Pennsylvania. (Read article)
The aftermath of such horrible accidents also is more complicated, involving an investigation that requires the expertise of motor vehicle attorneys like those at Kline & Specter, the largest plaintiffs law firm in the state with more than 40 attorneys, five of whom are also highly skilled medical doctors.
If you or a loved one needs an attorney after an accident involving a truck or bus, please contact the lawyers at Kline & Specter online or by calling (215) 772-1000. Our attorneys represent accident victims in Pennsylvania, Delaware, New Jersey and nationwide.
Big, Heavy and Menacing
The sheer size and weight of commercial trucks and buses compared to other vehicles on the road means they pose a unique safety risk to other drivers.
The average tractor-trailer weighs 80,000 pounds and measures roughly 65 feet in length. These vehicles accelerate and brake more slowly than the average passenger car, and truck drivers must contend with significant blind spots. It is estimated that a fully-loaded tractor-trailer traveling at 65 miles per hour in good weather may still need as much as two football fields, or 525 feet, to come to a complete stop.
When truck brakes are worn or heated, stopping a truck becomes even more difficult.
Many traffic accidents involving trucks or buses are not the fault of those commercial drivers. In some cases, however, truck or bus drivers are to blame. Consider this: As part of its ongoing push for heightened safety measures, the American Trucking Association chronicled the following troubling issues:
Driver Shortage: As the United States continues to recover from "The Great Recession" and consumer spending increases, so too does the amount of consumer goods that must travel the country's highways. Heading into 2016, the ATA reported that roughly 48,000 more professional truckers were needed to help improve safety and service.
Driver Turnover: With competition high for professional truck drivers, many trained truckers move often between employers.
Driver Fatigue: In some cases, commercial drivers report being awake more than a day at a time. This scenario makes a driver slower to react, produces poor judgment, and causes some drivers to fall asleep at the wheel.
Congestion: American highways have become more crowded, which makes for more dangerous circumstances when big-rigs are traveling alongside passenger vehicles.
Technology: Professional trucking and commercial bus companies should improve their safety technology to include such features as dashboard and rearview cameras.
Truck drivers often log many miles and long hours on the road. Although there are regulations that dictate how many hours a professional driver is supposed to be behind the wheel, some drivers don't follow the rules.
Truck Accident Lawsuit Expertise
The accident and injury attorneys at Kline & Specter will conduct a thorough investigation to determine who was at fault for your accident.
In one truck accident case litigated by Shanin Specter, work-hour logs indicated the trucker in question had driven 765 miles in a single day before swerving his tractor-trailer into a minivan in which our client was a passenger. She suffered very serious injuries as the result of the accident, and was rendered a paraplegic. Specter negotiated a $25 million settlement for this truck accident victim.
In other cases involving truck and bus accidents, the vehicles themselves cause harm due to manufacturing defects or poor maintenance.
There are a number of avenues our attorneys take while preparing your case. For instance, our truck accident attorneys often:
Contact the trucking firm, bus company or other relevant transportation management agency with a legal request to preserve any evidence related to your accident. Our truck accident attorneys also will:
Thoroughly examine all physical evidence related to your case including damaged vehicles and property.
Track down and interview as many witnesses as we can.
Use traffic accident and forensic experts to reconstruct your crash.
Scrutinize local and federal laws and regulations that may be relevant to your case.
Here's the bottom line: The truck accident lawyers at Kline & Specter  will go above and beyond to determine fault in your accident, win the best possible recovery on your behalf, and see your case through suit until you are satisfied that justice has been served.