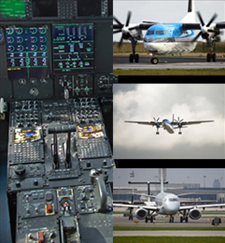 Hundreds of people die each year in the United States in airplane crashes and thousands perish worldwide, with most of the mishaps caused by human error.
A study of nearly 2,000 major airline crashes over more than five decades found that 60 percent were caused by pilot or other human errors, such as improper loading or maintenance. Another 21 percent were attributable to mechanical failure. (Weather was blamed for most of the remaining accidents.)
And major commercial crashes are rare compared to those involving smaller planes. A study several years ago showed private U.S. flights were 82 times more likely to be involved in a fatal crash than major airlines.
If you or a loved one was injured or killed in an airplane accident, please call 800-243-1100 to speak with an aviation accident attorney. Kline & Specter, PC, has several airplane accident lawyers who possess not only expertise in a courtroom but also hold pilots licenses and are experienced pilots themselves. 
Andy Stern, for one, is a licensed pilot since 1993 and currently is litigating a plane crash case in state court in Trenton, N.J., involving a South Carolina crash that claimed the lives of six New Jersey residents, including a well-known orthodontist whose practice was in Bucks County, Pa.
In a highly publicized case, Stern represented the estates of two pilots killed in the April 1991 mid-air crash that resulted in the deaths of U.S. Sen. John Heinz and several others. Stern won a substantial monetary settlement in the case against the Sun Company, whose helicopter crew was blamed for the mishap.  
Whether an airplane accident involves a major commercial carrier or a smaller private plane or jet, such mishaps are no less open to civil litigation than an accident involving a car or truck. Airplane lawsuits are often filed by people hurt in accidents or by the families of those who died.
Kline & Specter, PC
C, based in Philadelphia and with offices in Pennsylvania, New Jersey and Delaware, has more than 40 attorneys, five of whom are also doctors. The law firm is experienced in aviation accident litigation and has received exceptional results in a litany of cases. 
Call us at 800-243-1100 to speak with an experienced airplane accident lawyer.
On TV: