The birth of a child is a milestone that should arrive with unparalleled pride and joy.
Sadly, mistakes during pregnancy, labor, or delivery can cause significant and permanent harm to your newborn. These mistakes may constitute birth related medical malpractice.
If the medical staff which attended to your birth is responsible for healthcare errors that caused your baby pain, injury or even death, please contact Kline & Specter, PC in Philadelphia, Pennsylvania, or call our office directly at 800-243-1100.
Our skilled birth injury team includes more than 40 attorneys, several of whom also are accomplished physicians and two of whom are OB/GYNs. We handle birth injury lawsuits for birth injury victims and their families in Pennsylvania, New Jersey, Delaware and nationwide. 

"Fought feverishly"
"I had the best experienced legal team imaginable. They were patient and understanding throughout the whole ordeal. They knew how sensitive I was concerning the care of my brain-injured child and fought feverishly to win my case. It was a long battle and we were victorious!"
View all Testimonials
-Ebony Harris of Philadelphia
$42.9 million jury verdict in a case in which her child suffered cognitive and physical impairments as a result of a birth injury. The case was handled by Tom Kline and Regan Safier.
Cerebral Palsy and Erb's Palsy Birth Injuries
Cerebral palsy is not a disease. It is brain damage and can be caused during pregnancy or birth. In some cases, young children also have developed cerebral palsy after a head injury.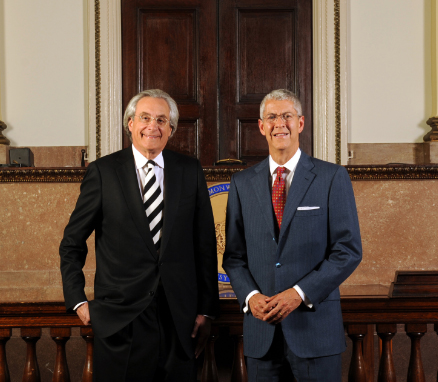 Here are some other significant details about cerebral palsy:
An estimated 500,000 Americans have the condition, which causes permanent physical disabilities.
At least 4,500 new cerebral palsy cases are diagnosed each year.
Some estimates of new cerebral palsy cases are as high as 10,000 each year.
Erb's palsy is a condition caused by nerve damage around the shoulder, or brachial plexus. This generally occurs during a difficult childbirth.
Also known as brachial palsy, Erb's palsy is a paralysis of the arm that will either resolve on its own over time or may require surgery to correct.
Tender Victims, Lifelong Care
Babies who sustain a birth injury or develop cerebral palsy due to medical error tend to require a lifetime of care and treatment. This means parents should never hesitate to consult an attorney to help prevent similar healthcare provider errors in the future and to ensure that your family receives just compensation.
Birth Injury Lawsuit Verdicts & Settlements
Kline & Specter excels at litigating birth injury and cerebral palsy cases. Recently, in April 2017, the firm won a nearly $42 million verdict for a child who suffered a forceps injury at birth that resulted in severe brain damage. The defendant in the case was the U.S. government, which had employed the doctor who committed the egregious error. (read article) Here are some of our other birth injury lawsuits, which have resulted in several major jury verdicts and settlements:
Birth Injury Case Study No. 1: $100 million — Our attorneys secured this record-setting verdict for a baby who suffered severe brain damage as a result of medical malpractice. It was the largest-ever compensatory damages award in Pennsylvania. (The Vlasny Case)
Birth Injury Case Study No. 2:  $57 million — This verdict from Allegheny County (Pittsburgh) Pennsylvania involved a midwife whose actions caused infant oxygen deprivation that resulted in cerebral palsy.
Birth Injury Case Study No. 3:  $42.9 million — This verdict, delivered in December 2013, was in favor of a baby girl who was badly injured during delivery at a Philadelphia hospital. (Fortson)
Birth Injury Case Study No. 4:  $20 million — This was the settlement in a birth injury lawsuit involving negligent care during labor and delivery that resulted in a catastrophic brain injury. Details of the case remain confidential.
Birth Injury Case Study No. 5: $19 million — This was a confidential settlement on behalf of an infant who suffered cerebral palsy due to a delayed C-section.
Birth Injury Case Study No. 6: $15 million -- The settlement came against a doctor and a nurse in a New Jersey case.
Birth Injury Case Study No. 7: A 2017 verdict in Johnstown, Pa., for a boy who suffered severe cerebral palsy due to mishandled delivery. The Jury award was largest-ever in a medical malpractice case in federal court in western Pennsylvania. (Read article) 

Experienced Birth Injury Attorneys
If your child has suffered because of a medical negligence during child birth in Pennsylvania, New Jersey or Delaware, please contact Kline & Specter online or call our Philadelphia law office directly at 1-800-243-1100 for a free case evaluation.
Related news: