Specter complaint brings PUC action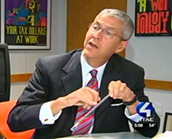 Shanin Specter's complaint filed with the Pennsylvania Public Utility Commission has led to an action against a utility in the death of a western Pennsylvania woman. The investigating branch of the PUC responded with its own complaint which, noted the Associated Press, "echoes allegations the family's attorney" made in his civil lawsuit against West Penn Power. Specter accused the utility of inadequate maintenance and employee training before a 7,200-volt line fell on Carrie Goretzka, fatally shocking and burning her in front of her mother-in-law and young daughters in a 2009 incident. Specter warned that the lines remain a hazard to the general public and he urged the PUC to act. The commission's investigation unit called for fines against West Penn Power for failing to turn over information, recommended that West Penn Power be forced to inspect all their power lines for similar defects, and improve its maintenance and training procedures. See coverage of the case, which is also being worked on by Kline & Specter attorneys Kila Baldwin and Dominic Guerrini.
See coverage
Tom Kline on the Penn State scandal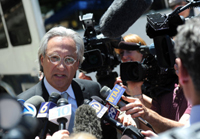 Tom Kline was a constant television and newspaper commentator during and after the trial of Jerry Sandusky in Bellefonte, Pa. As a nationally known attorney who is representing one of the sexual abuse victims of the convicted former Penn State football assistant coach, Kline was asked for his opinions on the trial and the subsequent independent investigation headed by former FBI director Louis Freeh. Kline appeared on nearly 1,000 TV news segments, including ABC World News Tonight, Nightline, Good Morning America, the Today show, Anderson Cooper 360 on CNN, Piers Morgan Tonight and ABC, CBS and NBC affiliates across the country as well as cable stations CNN, MSNBC and ESPN. He was also quoted extensively in scores of newspapers, among them The New York Times, The Washington Post, The Philadelphia Inquirer and People and Newsweek magazines View coverage

Kline will be interviewed by radio host Michael Smerconish about the Sandusky trial, media coverage and Penn State's civil liability in a CLE set for Aug. 22. Get more information or sign up.
Super number of SuperLawyers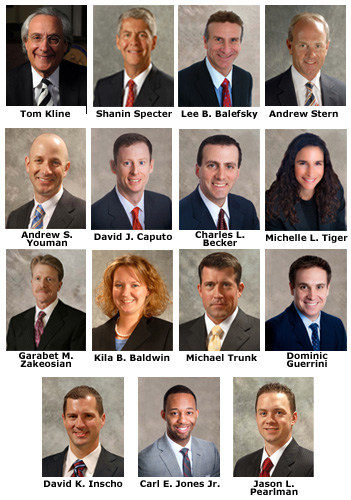 Fifteen Kline & Specter lawyers were named as 2012 Pennsylvania SuperLawyers and Rising Stars, including Tom Kline being selected as the state's No. 1 attorney an unprecedented ninth straight year and Shanin Specter once again chosen among the Top 10. The others selected were Lee B. Balefsky, head of the Mass Tort Department, Andrew J. Stern, Michelle L. Tiger, Andrew S. Youman (Top 100), Charles L. Becker, head of the firm's Appellate Division, David J. Caputo, Michael A. Trunk and Garabet M. Zakeosian, one of Kline & Specter's seven attorneys who are also doctors. For Kline, Specter and Balefsky, it was the ninth straight time being named by the independent lawyer rating organization and the eighth time for Stern. Named as 2012 Pennsylvania Rising Stars – a designation for the top 2.5 percent of Pennsylvania attorneys who are 40 or younger – were Kila B. Baldwin, Dominic Guerrini, David K. Inscho, Carl E. Jones Jr. and Jason L. Pearlman. Super Lawyers rates lawyers from more than 70 practice areas using independent research, peer nominations and peer evaluations in voting across the state. Kline and Specter were recognized for winning three of the top Pennsylvania verdicts for 2011: Kline and David J. Caputo won a highly publicized $14 million verdict for a high school student who lost her leg after she was run over by a school bus in Bucks County, Pa. Specter won verdicts of $21.6 million and $17.5 million in birth injury and medical malpractice cases, respectively. More
Government waves white flag
The federal government has dropped its appeal of a $17.5 million award for an ex-Marine who was felled by a stroke that followed dental surgery at a Veterans Administration Medical Center in Philadelphia. Christopher Ellison's blood pressure dropped sharply several times while having eight teeth removed in 2007 but he was allowed to leave the hospital. Ellison, 53, suffered a stroke and crashed his car as he drove home alone. He did not get to a hospital in time for post-stroke treatment that may have prevented him from suffering permanent brain damage. A federal judge handed down the verdict last September and the VA had preserved its right to appeal but recently decided against fighting the verdict. The case was handled by Shanin Specter, Regan Safier, David C. Williams and Charles L. Becker. (Read Article)
---
Kline & Specter adds nurse-lawyer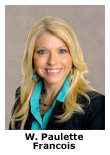 Attorney and registered nurse W. Paulette Francois joined the firm in July. She had six years of previous experience as an attorney handling medical malpractice and product liability cases, particularly pharmaceutical mass torts. A nurse for more than twenty years, Francois has clinical experience in medical surgical nursing, oncology and psychiatric/mental health. She earned her law degree from Widener University School of Law and her R.N. from Alfred University, where she graduated magna cum laude and was elected to Sigma Theta Tau Nursing Honor Society.
---
Fourth annual Kline & Specter softball game
The fourth annual Kline & Specter softball game was played amid the usual cheering and jeering as Team Kline pulled out a 10-3 victory, tying the series at two games apiece. Among the highlights: Shanin Specter's catch of a long foul ball (1), Dominic Guerrini's sort-of-over-the-shoulder center field catch through a Chip Becker screen (2), a near Pearlman-to-Matusow-to-Balefsky triple play (impossible to capture on film), Becker's safe (though entirely unnecessary) slide into home (3), Mark Hoffman's all-out stretch to make an out at first base (4). Note that Hoffman managed to make the catch with his glove hand while signaling the "out" call with his other. Also – Kline and Specter (5), the team photo (7), and Kevin Colfer, age 15 months, exiting the stadium (6).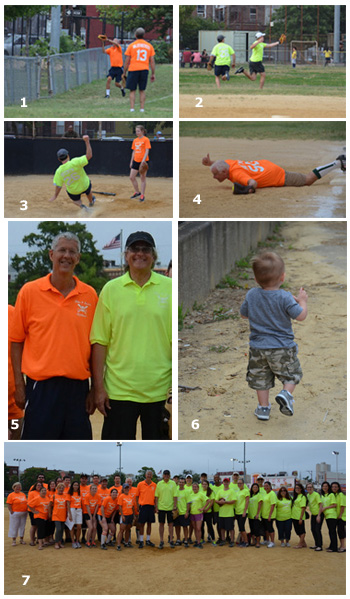 ---
Appeal on damages proceeds, with an ally
Kline & Specter's appeal of the $500,000 Pennsylvania cap on damages in cases against governmental subdivisions now has a prestigious ally – the judge who presided in the Ashley Zauflik trial. Tom Kline and David Caputo last December won a $14 million verdict for the young Bucks County woman who lost her leg when she was struck by a school bus. Bucks County Common Pleas Judge Robert J. Mellon said afterward that he was constrained to limit the verdict to $500,000 to be shared with other accident victims. Mellon, however, also said the result was unfair and unjust and should be reexamined by the Pennsylvania Supreme Court. An injured person's right to full recovery, he said, is not outweighed by the public interest in preserving the public treasury. Read the complete article. Kline, Caputo, and Charles L. Becker are pursuing the appeal for Zauflik. Read the complete article
---
Shelsby and Leoni join as Delaware counsel

Gilbert F. Shelsby Jr. and Robert J. Leoni joined Kline & Specter as of counsel attorneys to represent clients in Delaware. The highly successful Wilmington-based firm of Shelsby & Leoni, P.A., has obtained seven-figure verdicts and settlements in the First State. Gil Shelsby and Rob Leoni handle a range of cases from medical malpractice to motor vehicle accidents, from workplace injuries to premises and product liability. They have a wealth of experience with the Delaware court system and a solid background in the region. For more, go to www.shelsbyleonilaw.com
---
Not too late for summer reading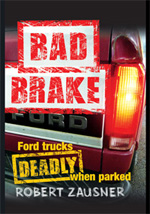 Consumer activist Ralph Nader has selected the book Bad Brake, which chronicles Shanin Specter's legal war against Ford Motor Co. and its defective F-series trucks, among his top recommended summer reading selections. Noted Nader on his website: "If you want to see the gripping persistent pursuit of the rights of people whose lives were devastated by a popular truck defective brake design by trial lawyers at their creative best, read this documented story." The selection is among Nader's list of books to "jolt the mind for action." Also on the list: Corporations Are Not People by Jeffrey D. Clements and We Can All Do Better by former Sen. Bill Bradley. For more, visit www.nader.org
---
Get Our Eletter
If you know someone who would want to receive our Eletter, simply forward this email and they can click here to complete the E-letter form.
---