Burn Injury Lawyers
Pennsylvania - New Jersey - Delaware - New York - Nationwide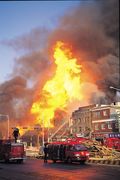 More than 1 million people suffer burn injuries that require medical treatment in the United States each year, with an estimated 4,500 people dying and many others suffering extremely painful and often permanently disabling injuries.
Most often, severe burns – by fire, smoke, scalding, chemicals, an electrocutions – are caused by human error, accidents that largely injure those at fault. But many burn injuries and deaths are caused by negligence or the carelessness of others. (More on electricity injuries)
Among these causes are: faulty wiring or plumbing, auto accidents, unsafe workplaces, poorly maintained smoke alarms or residence lacking the devices, and defective products, including flammable fabrics.
If you or a loved one suffered a severe burn injury or death as a result of the negligence of another person, an employer or a defective product, you may want to contact an experienced burn injury attorney.
Someone died in a fire roughly every two hours in 2005, according to the Centers for Disease Control and Prevention (CDC), with residential fires resulting in about four out of five deaths and causing nearly $7 billion in damage.
According to the American Burn Association, burn victims make some 700,000 visits to hospital emergency rooms each year, with 45,000 of those patients requiring hospitalization. Those admitted suffered burns to an average 14 percent of their bodies.
In many cases, the injuries could have been avoided – by a landlord installing and maintaining mandated smoke alarms, by an employer providing a safe work environment, by a manufacturer fixing or recalling an unsafe product. (In 2006 alone, fire hazards were reported among a range of products such as heated seats in autos, candles, cooking devices and silk blouses.)
Most at risk for fatal burn injuries are children younger than five and the elderly, those least able to escape fires and less able to physically withstand serious injuries. Many children suffer severe burns and death in mishaps involving scalding water, some occurring while they are bathing.
The CDC has noted that deaths from fires and burns is the fifth most common cause of unintentional injury deaths in the United States and the third-leading cause of fatal injuries in the home.
Burn and explosion injuries also occur in the workplace. In one highly publicized case, a worker was killed in a 2001 explosion that sent him hurtling into a tank of sulfuric acid at the Motiva Enterprises refinery in Delaware. An investigation by Kline & Specter, P.C., discovered gas leaks due to negligence at the plant was the cause of the accident and Motiva eventually agreed to a $36.4 million settlement in the case, considered the largest-ever reported settlement for a single injured worker. The law firm reviewed 40,000 documents and hired 14 experts in a year-long probe of the accident. (See Refinery Explosions to read more about the Motiva case.)
Kline & Specter is based in Philadelphia and has some 30 attorneys, several of whom are also highly skilled doctors. The law firm has had success litigating personal injury claims in Pennsylvania , New Jersey and nationwide. For a free evaluation of your case, contact a burn injury lawyer today.
---
Kline & Specter handles cases in Pennsylvania, New Jersey and New York and Nationwide, working with local attorneys in states outside PA, NJ and NY.
In Pennsylvania, Kline & Specter handles cases in and around: Allentown, Altoona, Bethlehem, Chester, Doylestown, Drexel Hill, Easton, Erie, Greensburg, Harrisburg, Hazleton, Johnstown, Lancaster, Levittown, McCandless, McKeesport, Monroeville, Norristown, Philadelphia, Pittsburgh, Pottstown, Radnor, Reading, Scranton, State College, West Chester, Wilkes-Barre, Williamsport and York.
In New Jersey, the firm handles cases in and around: Atlantic City, Bayonne, Brick Township, Camden, Cherry Hill, Clifton, Edison, Elizabeth, Fort Lee, Jersey City, Lakewood, Millville, Newark, New Brunswick, Paterson, Pennsauken, Plainfield, Toms River, Trenton, Union, Vineland, Voorhees and Willingboro.