Someone is sexually assaulted every 98 seconds in the United States, amounting to more than 320,000 cases of sexual assault each year. Most of the victims are children.
Many cases of sexual abuse are never reported to authorities and many others are reported only years after the incidents. Children often avoid telling about abuse until they are adults because they are afraid of a negative reaction from relatives or authorities or, worse, of being harmed further by their abusers.
If you, your child or someone you love were the victim of sexual abuse, you may have grounds for a lawsuit. Kline & Specter, PC, with more than 35 experienced attorneys, five of whom are also medical doctors, handles sexual abuse cases with compassion, confidentiality and expertise.
Kline & Specter has litigated many sexual abuse cases, including that of "Victim No. 5," who was represented by Tom Kline in the infamous Jerry Sandusky scandal that resulted in Penn State agreeing to pay $60 million to all the victims involved in the litigation. (View coverage)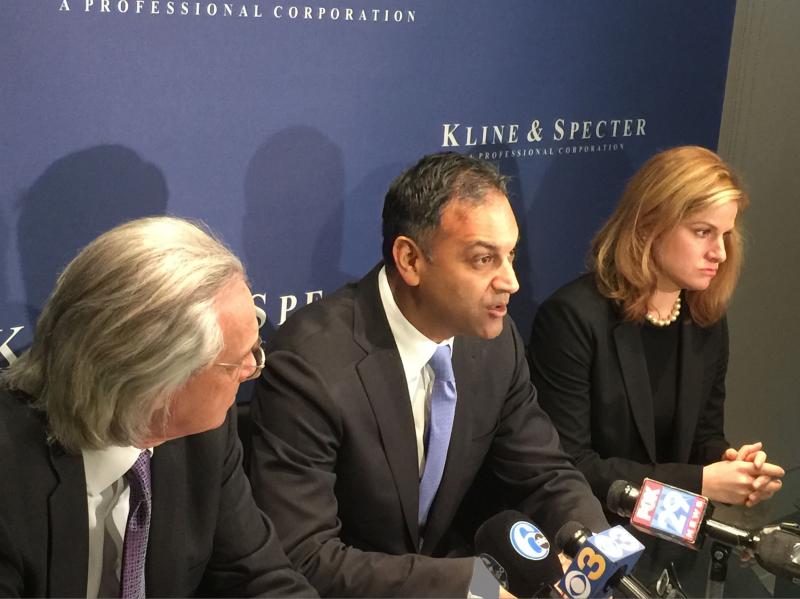 In a highly publicized case, Kline along with Nadeem Bezar and Emily Marks – recent additions to the firm who have many years of experience with sexual abuse litigation – in March 2017 filed the first civil suit under a Pennsylvania human trafficking statute. The suit was filed against a motel owner and manager on behalf of a teenage girl who was enslaved and forced to perform sexual acts over nearly two years. (News coverage)
Bezar and  Marks won a $5.35 million verdict in 2016 against Presbyterian Children's Village for twice placing a young girl in a temporary foster home where she was sexually molested. (Read the article)
The firm also recently filed suit on behalf of a 29-year-old former student of the Solebury School in Bucks County who claimed she was sexually abused by her gym teacher between 2003 and 2005. The suit followed a grand jury report detailing instances of sexual abuse at the school over a 50-year period, but our client is the only one whose case fell within the statute of limitations. (Learn more)
It is important to contact an attorney soon in cases against a sexual abuser or third party, such as a school or church, because states have different statutes of limitations for civil actions. Pennsylvania allows victims to file such lawsuits until age 30, while New Jersey allows only two years from "reasonable discovery" of harm. Delaware has removed any limitation in sexual abuse cases, while New York allows suits to be filed until age 23 against an abuser and 21 against a third party. See a list of all state statutes compiled by the National Conference of State Legislatures.
Among other Kline & Specter sexual abuse cases are:
·         In the highly publicized "House of Horrors" case, Shanin Specter, Dominic Guerrini and Tracie Palmer sued a social services provider, child advocates, and the City of Philadelphia, as responsible for 10 years of torture endured by a young girl after she was placed under the care of an abusive aunt who had been previously convicted of third-degree murder. The case was settled in 2015 for $3.5 million. (News coverage)
·         Kline reached a settlement of up to $3.8 million against a Pennsylvania psychotherapist who abused and photographed his teenage patient. In addition to monetary compensation, the therapist was also forced to make a lengthy public apology and agreed never to practice again.
·         Specter represented a 12-year-old boy who was assaulted at a charter school. The case resulted in a $2 million settlement.
·         David Inscho represented a young man who was repeatedly abused by his mentor through a local organization. Although criminal prosecution was barred because the events took place years earlier, Inscho was able to investigate the case through the civil justice system and obtain a significant monetary recovery for the victim.
·         An ongoing case against the Philadelphia Archdiocese on behalf of the family of a boy who alleged he was abused from ages 11 to 14 by a Catholic priest since removed from priestly duties over previous allegations. The victim died at the age of 26 of a heroin overdose. Kline & Specter is seeking to prove the church knew of prior offenses but allowed the priest to continue in ministry and have access to children.
Experts agree that the prevalence of child sexual abuse is hard to accurately determine because it is vastly underreported to authorities. According to the U.S. Department of Justice's National Sex Offender Public Website (NSOPW), only about 30 percent of all sexual assault cases are reported. In 2012, 62,939 cases of child sexual abuse were reported.
Disclosures of sexual abuse typically unfold gradually and can often be presented as a series of hints by victims to someone they trust. When children do disclose, it is frequently to a parent, sibling, friend or sometimes a teacher. Very few actually disclose sexual abuse to authorities or professionals other than teachers, according to NSOPW. It is estimated that 30 percent of perpetrators of child sexual abuse are family members, 10 percent are strangers to the child, and 60 percent are known to the child but are not family members, such as family friends, babysitters, neighbors, and teachers.
According to the Rape Abuse & Incest National Network (RAINN), sexual assault occurs every 98 seconds in this country, with many of the victims being children. Overall, 17 percent of boys and 25 percent of girls are sexually abused before the age of 18, according to the federal Centers for Disease Control and Prevention (CDC). RAINN notes that nearly 40 percent of victims experience later relationship issues with family and friends as well as with co-workers. The likelihood that a person suffers depressive or suicidal thoughts also greatly increases after experiencing sexual abuse.
Although nothing can make up for the pain endured by sexual abuse victims, bringing their perpetrators to justice can help begin the healing process and ensure that others are not made to suffer at their hands.
Latest Kline & Specter news on sexual abuse:
Nadeem Bezar Comments On Human Trafficking Case, Canada Radio, 3/24/17
Kline-Bezar comment on lawsuit filed in human trafficking case, WPMT, 3/11/17; Fox 29 3/10/17; ABC 6 3/10/17; NBC 10 3/10/17-5PM; NBC 10 3/10/17-4PM; CBS 3 3/10/17; WNEP, 3/11/17
Motel Turned Blind Eye To Child Sex Traffickers For Profit, Suit Claims, The Huffington Post, 3/14/17
Forced to have sex with 1,000 men, a girl is now suing the motel that she says let it happen, The Washington Post, 3/14/17
Teen 'sex slave' sues motel where alleged abuse took place, New York Post, 3/14/17 
Philadelphia Teen Claims Motel Knew She Was Being Sex Trafficked But Did Nothing, People, 3/13/17
Sex trafficking victim sues U.S. motel in landmark case, Thomson Reuters, 3/15/17
Philly motel sued in first reported human-trafficking lawsuit under Pa. statute, The Philadelphia Inquirer, 3/10/17
Jury awards $5.35M to girl placed in abusive foster home, Metro, 11/4/16
Foster case agency hit with $5M verdict over sex abuse, The Legal Intelligencer, 10/27/16