Bicycle Injury Lawsuits
Pennsylvania - New Jersey - Delaware - New York - Nationwide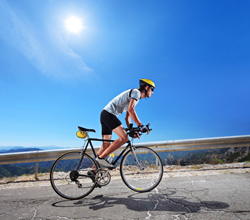 More than 600 people die and roughly 50,000 are reported injured in bicycle accidents each year in the United States.
In many cases motor vehicle drivers are at fault, with the most common causes including cars or trucks turning in front of bicycle riders in mid-block or at intersections or when drivers fail to see bikers in their lane and "ride up their back." In some cases, alcohol is to blame.
If you or a loved one suffered a catastrophic injury or death in a bicycle accident, you might want to contact a bicycle accident attorney for a free evaluation of your case.
The most common victims in bicycle accidents are children, with roughly 60 percent of all bike-related injuries seen in hospital emergency rooms involving those 15 and younger.
But many fatalities involve older riders who are more likely to take to major roads. The average age of those killed in bike accidents was 41, while the average age of those injured was 31. Fatalities also claimed mostly male riders and occurred most often in urban areas.
The Centers for Disease Control and Prevention (CDC), which compiles bicycle accident statistics, recorded 630 deaths and 51,000 injuries in 2009, the last year for which data was released. But it said research indicates that only a small fraction of all accidents are reported to authorities, perhaps as little as 10 percent.
Kline & Specter, P.C., a Philadelphia-based law firm with some 30 attorneys, several of whom are also doctors, is exceptionally qualified to investigate and litigate bicycle accidents involving severe injuries or death. The firm works on a contingent fee basis, which means we only get paid if and when you are financially compensated.