School Bus Accident Attorneys
Pennsylvania - New Jersey - Delaware - New York - Nationwide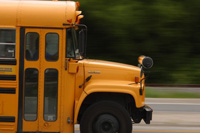 There are 585,000 school buses transporting children in the United States, logging millions of miles each day. Accidents are inevitable, resulting in 17,000 emergency-room visits and an average 20 deaths annually.
USA Today, in a 2005 article, noted that the buses are top-heavy and prone to rolling over. Only a handful of states require that new school buses have seat belts (and many older ones do not) and fewer still require that students wear them.
"School buses are old-fashioned, outdated and don't give children the benefit of current safety techniques," Alan Ross, president of the National Coalition for School Bus Safety, told the newspaper.
If your child suffered a serious injury or death in a school bus accident, you may have a legal claim. Click here to contact a school bus attorney.
The latest data on school bus accidents, contained in a study by researchers at Columbus (Ohio) Children's Hospital Center for Injury Research and Policy, showed that school bus-related accidents send 17,000 riders to emergency rooms each year. The study was reported in November 2006.
Many of the injuries were suffered by students riding in buses during crashes, but many others occurred when children were boarding or leaving school buses. Of the 20 fatalities occurring typically each year, five are suffered by students riding buses and 15 are struck while outside a school bus.
In one such incident, Ashley Zauflik, a 17-year-old student at Pennsbury High School in Pennsylvania, was run over when a school bus ran out of control. Doctors had to amputate her left leg above the knee after an infection threatened her life. She suffered other injuries that required kidney support and she was placed in a medically induced coma for treatment.
Tom Kline, along with Doylestown attorney William L. Goldman Jr., was retained to represent Ashley Zauflik. A trial concluded in December 2011 with a $14 million verdict. (See television and newspaper accounts.)
Kline & Specter is based in Philadelphia and has some 30 attorneys, several of whom are also highly skilled doctors. The law firm has had success litigating personal injury claims in Pennsylvania, New Jersey and nationwide. For a free evaluation of your case, contact a school bus lawyer.
For other automobile accidents, including those involving cars, trucks, buses or 15-passenger vans or accidents involving rollovers, roof crushes, faulty seat belts, defective brakes or airbags, visit our Auto Accident page.
---
Kline & Specter handles cases in Pennsylvania, New Jersey and New York and Nationwide, working with local attorneys in states outside PA, NJ and NY.
In Pennsylvania, Kline & Specter handles cases in and around: Allentown, Altoona, Bethlehem, Chester, Doylestown, Drexel Hill, Easton, Erie, Greensburg, Harrisburg, Hazleton, Johnstown, Lancaster, Levittown, McCandless, McKeesport, Monroeville, Norristown, Philadelphia, Pittsburgh, Pottstown, Radnor, Reading, Scranton, State College, West Chester, Wilkes-Barre, Williamsport and York.
In New Jersey, the firm handles cases in and around: Atlantic City, Bayonne, Brick Township, Camden, Cherry Hill, Clifton, Edison, Elizabeth, Fort Lee, Jersey City, Lakewood, Millville, Newark, New Brunswick, Paterson, Pennsauken, Plainfield, Toms River, Trenton, Union, Vineland, Voorhees and Willingboro.