Rollover Accidents - Roof Crush Accidents
Pennsylvania - New Jersey - Delaware - New York - Nationwide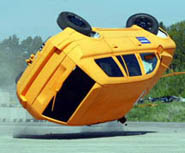 Roughly 10,000 people are killed each year in rollover accidents and many more suffer catastrophic injuries, including brain injuries and spinal cord injuries.
A significant number of these rollovers are caused by the vehicles themselves. In particular, sport utility vehicles, or SUVs, are more susceptible to rollover accidents because they are top heavy – they have a higher center of gravity. Ford Motor Co. in November 2007 agreed to settle a class-action lawsuit by some one million people claiming that its Explorer SUV was prone to rollovers. (See story)
Rollovers are extremely dangerous and have a greater fatality rate than other types of car and truck crashes. While only a small number of all accidents involve rollovers – a mere 3 percent – rollovers account for fully one-third of all deaths involving passenger vehicles.
Many of the fatalities involve roof crush, rollovers in which the roof-strength of a vehicle cannot withstand the force of the crash. In one case, in October 2005, a jury awarded $30.4 million in the death of a teenager whose family claimed the roof of their pickup truck failed to provide ample protection in a rollover accident.
If you or someone you know was seriously injured or killed in a rollover or roof crush accident, you may want to contact a rollover attorney for a free evaluation of your case.
SUVs are more prone to roof crushes, which occur in many rollovers. An SUV roof is more likely to crush because the vehicles are higher and the roofs often impact the ground with more force than passenger cars.
While organizations such as the National Highway Traffic Safety Administration have proposed more stringent standards for vehicle roofs, the government has yet to mandate such requirements and many cars are manufactured with roof standards that have not been changed or improved in more than three decades.
In the meantime, autos prone to rollovers, such as the SUV, continue to increase in popularity – and rollover injuries and deaths with them. Rollovers account for more than 200,000 injuries annually in the United States, including 10,000 fatalities.
For more information, the National Highway Traffic Safety Administration provides rollover safety ratings for various makes and models of vehicles at www.safercar.gov..
And it isn't only cars, vans and trucks that are involved in rollovers. People, sometimes children, have also suffered severe injuries while riding all-terrain vehicles, or ATVs, that have rolled over.
Kline & Specter, P.C., with some 30 experienced attorneys, several of whom are also highly regarded doctors, is one of the nation's leading law firms with the ability to litigate rollover accident cases. We have successfully litigated both rollover and ATV cases for catastrophically injured clients.
Click here to rollover lawyer today.
---
Kline & Specter handles cases in Pennsylvania, New Jersey and New York and Nationwide, working with local attorneys in states outside PA, NJ and NY.
In Pennsylvania, Kline & Specter handles cases in and around: Allentown, Altoona, Bethlehem, Chester, Doylestown, Drexel Hill, Easton, Erie, Greensburg, Harrisburg, Hazleton, Johnstown, Lancaster, Levittown, McCandless, McKeesport, Monroeville, Norristown, Philadelphia, Pittsburgh, Pottstown, Radnor, Reading, Scranton, State College, West Chester, Wilkes-Barre, Williamsport and York.
In New Jersey, the firm handles cases in and around: Atlantic City, Bayonne, Brick Township, Camden, Cherry Hill, Clifton, Edison, Elizabeth, Fort Lee, Jersey City, Lakewood, Millville, Newark, New Brunswick, Paterson, Pennsauken, Plainfield, Toms River, Trenton, Union, Vineland, Voorhees and Willingboro.